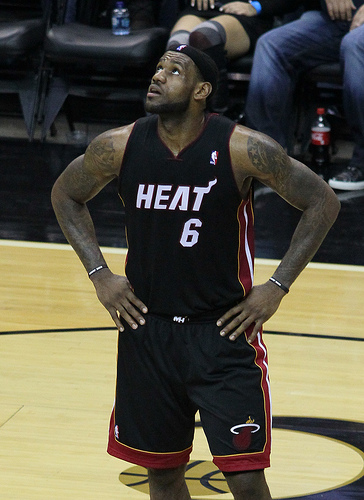 ??by?
?
Keith Allison
?
Miami Heat superstar LeBron James easily became?the subject of criticism especially after a poor performance. The latest swipe at the NBA forward was through the hashtag
#LeBroning
, where social media users started sharing photos of themselves being carried by family or friends. The term #LeBroning was born after James was carried off the court by teammates due to cramping. The star was suffering from cramps in his left leg due to the extreme heat at the AT&T Center at San Antonio in Game 1. Even though James? 25 points could not be entirely categorized as a poor performance, fans, particularly of the San Antonio Spurs poked fun at him for giving up so easily and leaving the court with four minutes left in the fourth quarter. #LeBroning is done by asking a couple of colleagues or friends to lift you up on both sides and grimacing. Others also referred to #LeBroning as wildly flopping on or off the court. The NBA has made it very clear that it will not tolerate flopping during games and will fine players who overreact to defense or minor contact. The hashtag reached its peak on June 5, 2014 at 11 p.m. with 13,600 tweets. On June 8 at 7 p.m. #LeBroning already had 83,000 tweets.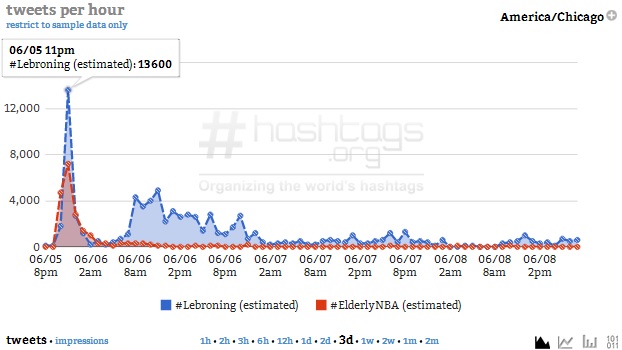 Courtesy of
Hashtags.org Analytics
Another hashtag
#ElderlyNBA
was also created in lieu of the frequent flopping going on in the league as well as James? intolerance to heat. At around 11 p.m. on June 7, 2014, the hashtag peaked at 7,200 tweets. The next day at around 7 p.m., the hashtag already had 20,200 tweets.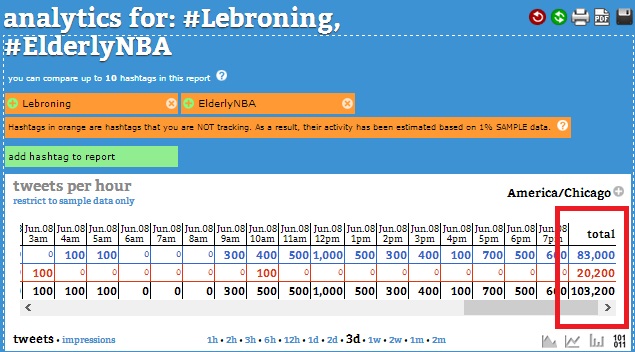 Courtesy of
Hashtags.org Analytics
Social media users and NBA fans went to #ElderlyNBA to share edited photos of James and other NBA stars in their older selves and suffering from a variety of age-related conditions. There were also tweets that poked fun at players? names by mixing these with geriatric themes. Some of the good examples include ?The Denture Nuggets? and ?Viagra = Low Post Help?.