The 2014 season of
#NFL
kicked off ?Friday. The Packers played the Seahawks. The final score was 16-36, with the Seahawks winning. Football is the biggest sport in America, with 35 percent of sports fans calling it their favorite. That's why it is no surprise that during the first game, #NFL started trending above normal.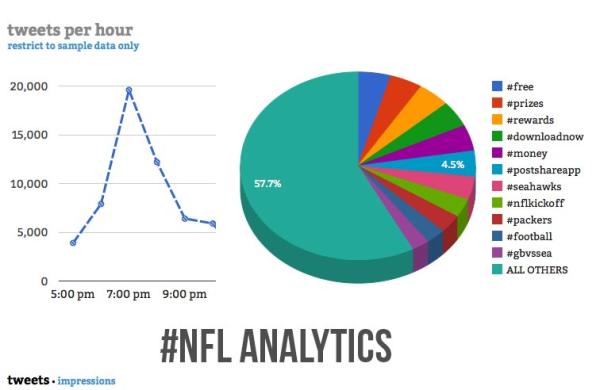 Analytics provided by
Hashtags.org Analytics
The spike in tweets are visible at the game start time. The associated hashtags are the team names, and a post share app which apparently is free and giving out prizes and awards. There are even associated hashtags of #gbvssea which stands for Green Bay Packers vs. Seahawks. Then, there are many others that are associated, of course, but not enough to show up in the graph, meaning it isn't a significant number of people using the same hashtags with #nfl to count. The analytics prove that NFL is huge in America. Not only do people enjoy watching the games, oftentimes they play fantasy football as well. Fantasy football is where there are people who create their own teams and compete against each other, using the points that each player accrued during their actual playing time.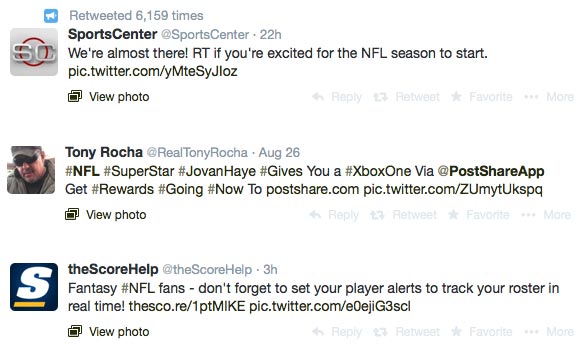 Many people look forward to football as they look forward to holidays or vacations. Football holds a special place in America's heart and brings out the competitive side of us all. It is no wonder that it would trend on twitter and will be trending throughout the season, and probably even when the season is over, begging it to come back. Featured Image thanks to
Free Digital Images
by
vectorolie