Everybody who pays any attention to sports remembers that not too long ago #LSU was the powerhouse of College Football. This weekend, #LSU defeated the number 3 ranked team to give themselves a chance at the championship at the end of the year. The hashtag started just about 24 hours before game day and continued all throughout the weekend as the news unfolded. Those who watched the game were planted on the edge of their seat the entire fourth quarter as #LSU seemed to play as they had done in previous years.

Tweet rates ran through the thousands during the entire game. At one point toward the end of the game, the rate of Tweets per hour skyrocketed from only about 1,000 an hour to over 10,000. The game was one of few this weekend that were very important possible upsets. #LSU became more popular as it was the most promising for those hoping for a loss from a top team in the country. It was #OleMiss vs. #LSU, and #OleMiss was expected to have the game in the bag. However, #LSU was looking to make an impact before the season grew too old. Now, because of their huge upset, #LSU is back on track after unfortunate losses earlier in the season. They are now on a roll of momentum, headed toward the top along with many other teams that still have a chance.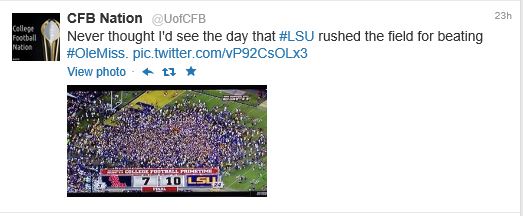 Loyal #LSU fans celebrated throughout the weekend as the trend kept going across social media. Even those College Football fans who aren't particularly fond of #LSU enjoyed the spectacle they put on Saturday night. It was truly a fair match between two great teams and will most likely be remembered in history. Still, the season is far from over. It's only just past halfway through and there is still plenty of time for even more football action, including upsets as #LSU takes on Alabama in what is expected to be another great game. Featured graphic: deviantart.net Creative Commons 2.0.