Just as expected, #WorldSeriesGame1 was nothing but a warm up for the Kansas City Royals. With a victory almost as alarming as the San Francisco Giants during game one, #WorldSeriesGame2 went to Kansas City. The hashtag, as usual, was trending the entire length of the game including some time before and after. The difference between game 1 and game 2: the Royals' fans were the ones gloating.

There were also plenty of other hashtags that rode alongside the #WorldSeriesGame2. Of course, much like the victory for the Giants, hashtags related to the Royals were much more prevalent. Fans were more than relieved to see their team recover from such a menacing defeat. It was almost as though the first game was a warm up for Kansas just to test out San Francisco. Other hashtags included #Royals, #BeRoyal, and generally about the Major League Baseball in general.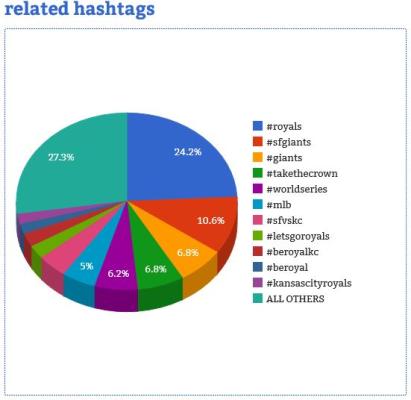 The reaction among Tweeters was synonymous. This was clearly a game for payback from the night before. The Royals had remained undefeated in the post season this year and were broken only by that single game on Monday.



Although the Giants fans were obviously surprised, the Royals fans wanted to brag about how good they knew their team really was. They sent out their fair share of Tweets to contribute to the #WorldSeriesGame2 trend. If there is one thing to be learned from the two games so far, it's that both teams are ready to give everything they have in this championship (at least their fans are). Still, the game didn't pick up until quite late into the game. This could indicate both teams were giving it their all or that the Giants had gotten too confident in their victory the other night. Either way, social media will rant and rave about these World Series hashtags. Be prepared for game 3 as both teams are ready to take the lead. Perhaps it will remain a back-and-forth series or perhaps one team will show their true side and takeover the last few games. Featured Graphic: Flickr http://www.flickr.com/photos/huffstutterrobertl/6685306613/. Creative Commons 2.0.