Remembered as an aspiring teen pop artist, Ariana Grande is now well known throughout the music industry. Having many collaborative works with plenty of big names, she has gained enough exposure to the world to generate a pretty decent fan base and establish her identity. Now each time a new song or video is announced, fans across social media get impatient waiting for its release. This was the case with the release of the
#OneLastTimeVideo
on Sunday night. The hashtag was first used to announce the release and it exploded across social media as it reached almost 120,000 Tweets per hour in the first few hours of its life.

Courtesy of
Hashtag Analytics
After watching the video, it seemed everybody was instantly talking about it. Even the day after it was announced, the Tweet rate stayed just under 15,000 Tweets per hour. The explosive spike of the initial use of the hashtag helped paved the way for this long lasting trend. It even fueled plenty of other related hashtags which helped spread the news around. The most commonly used hashtags are displayed in the chart below.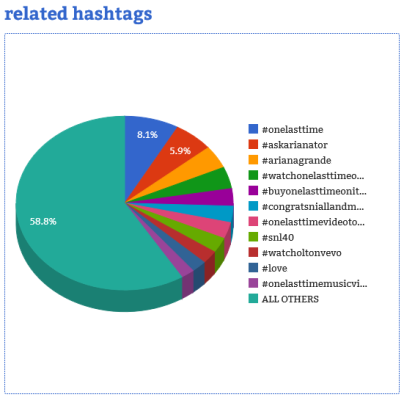 Courtesy of
Hashtag Analytics
There were plenty of fans eager to congratulate the artist on her accomplishments. This video marked a huge part in her career. She has successfully established a reputation that she seems to be happy with. Fans on social media also seem to recognize how hard she has worked for this.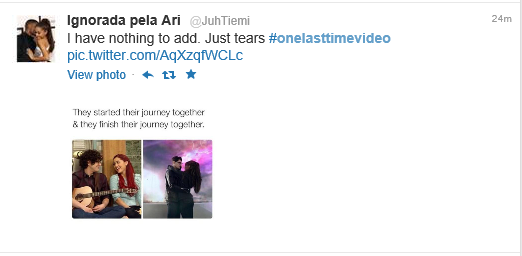 One of the best characteristics of Ariana Grande, especially noticed after this #OneLastTimeVideo, is her ability to mature. Unlike most artists in a similar situation, she developed a gradual, steady lean into adulthood to target a mature audience that truly appreciates her for her music and messages. Thanks to this great connection to her listeners, she has developed quite a large fan base and followers of her updates across social media.