The last few weeks have showed a decrease in common Twitter hashtags such as #TBT or #WCW. However, the hashtag
#FF
(Abbreviation of Follow Friday) has shown that people appear to be aiming for more friends and followers in 2015. While this hashtag is almost always trending, it has surpassed these other common hashtags so far this year. Of course, this hashtag was still most prevalent during its typical time on Friday. Compared to other Fridays in the last couple weeks, this particular day saw a generous increase overall in Tweet rate.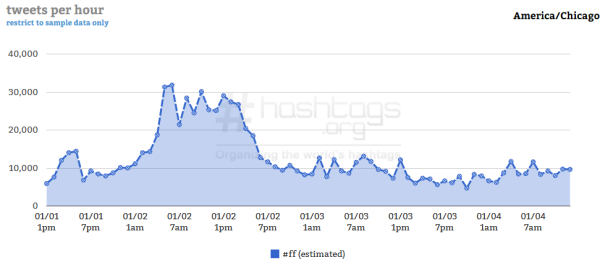 Courtesy of
Hashtag Analytics
The Tweet rate rose up to just around 30,000 Tweets per hour for almost 12 straight hours. This is unusual for #FF even on a?regular Friday. Typically the hashtag will see a spike around this amount but it is usually other common hashtags that take the lead. Perhaps this trend will continue throughout 2015 but perhaps it was just for the first Friday of the new year. Still, there were quite a few other related hashtags (including some in non-English languages!) that were up there with #FF, so it may just be making its way into traditions for other languages.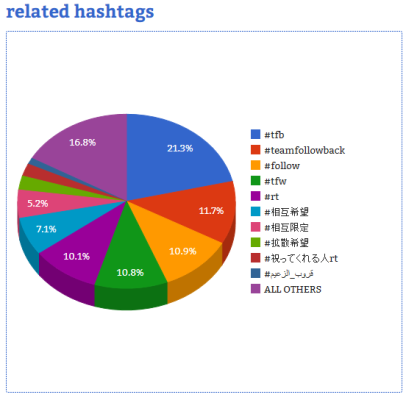 Courtesy of
Hashtag Analytics
Last week it was #TeamFollowBack that lead the way on Friday for most uses. This could also mean that #FF just happens to be the top follower hashtag out of coincidence.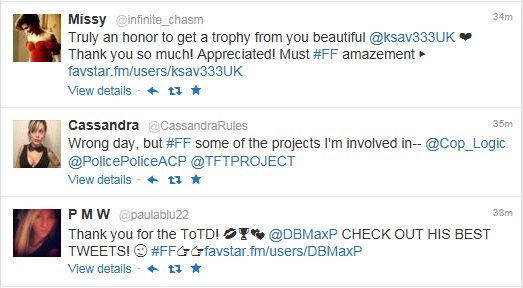 After the weekend, the hashtag died down a bit but still remained in effect. It seems like #FF has become more than just for Fridays. It is a short hashtag, so it may just be used because it doesn't take up too many characters in a Tweet. Either way, don't expect #FF to die out anytime soon as Twitter is all about making new friends and gathering new followers for a more interactive social experience.