If you've never heard of him, it may be due to his young age. At just under the age of 16, Shawn Mendes became the youngest person to reach the top 25 with a debut song on the Billboard?Hot 100. This is in part due to?the influence he has?spread around social media. This particular day that he was in the spotlight was thanks to a new music video caught under the hashtag
#ALittleTooMuchVideo
. The video for the song, titled A Little Too Much of course, was a popular choice that was sure to please fans. Surely enough, when the video was released under this hashtag, social media saw a new trending hashtag.
Courtesy of
Hashtag Analytics
The funny thing about hashtags of this length like #ALittleTooMuchVideo is that they can have a little too much wording and confuse some people. This creates some related hashtags that were actually meant to be this hashtag. Of course, all these hashtags were meant to publicize the music video, and they surely did their job.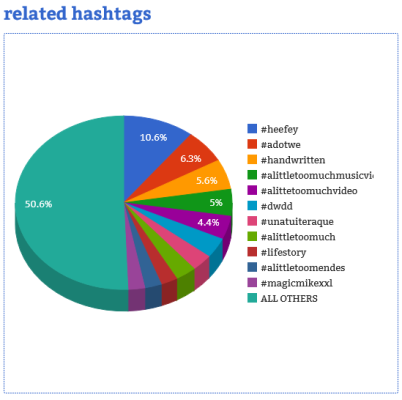 Courtesy of
Hashtag Analytics
While not every hashtag was about the video, there were a couple about different songs by Shawn Mendes. His fans across social media made sure to show their love for the artist as well by tagging Shawn Mendes with #ALittleTooMuchVideo. While there was plenty of excitement for the new music video, there was a bigger focus on the actual concept of the song and how it affected them.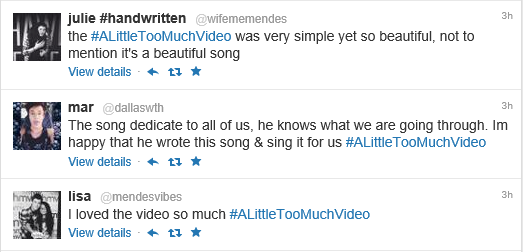 Many find it amazing how such a young boy could make this big of an impact on their life. The fact that just the release of the #ALittleTooMuchVideo got as much attention across social media as it did shows how impressive Mendes's work is. Except more from this artist as he grows and develops into the person he truly wants to be and inspires his fans.