??by?
?studio08denver
?
First Lady Michelle Obama (
@MichelleObama
) gets first place when it comes to rate of tweets per minute. Twitter has become the preferred social media instrument among political agencies and personnel when it comes to sharing general, personal and government-related matters. Obama has almost twice as many tweets-per-minute than Republic nominee Mitt Romney (
@MittRomney
). During the opening night of the Democratic Convention, Michelle Obama?s speech had the most tweets-per-minute or TPM, reaching as many as 28,003 at around 11:06 p.m. compared to Romney?s 14,289. The first night of the DNC produced over 3 million tweets in all, well ahead of the RNC. The RNC only totaled around 4 million tweets over three days. Michelle Obama?s statement ?We?ve got so much more to do? was the most tweeted with the social networking site users responding at around 22,004 TPM. ?Living the American Dream? is the second most tweeted at 21,557 TPM. Finally, ?how hard you work matters? garnered 18,669 TPM.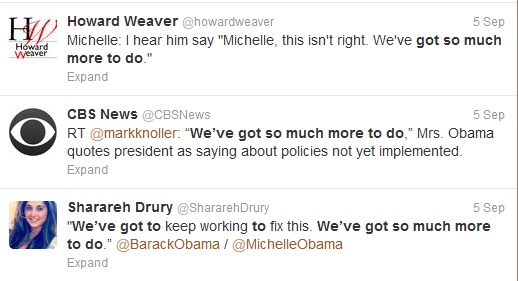 This means that her speech had higher scores compared to her husband?s. President Barack Obama topped at 14,131 TPM only during his 2012 State of the Union address. Another democrat who also garnered a high score is Julian Castro (
@JulianCastro
), who topped at 11,503 TPM, which is still higher than every other speaker in the Republican side except Romney. Other speakers from the Democratic side also had very good responses from Twitter fans such as Martin O? Malley (
@GovernorOMalley
), Governor of Maryland with 7,502 TPM and Deval Patrick (
@MassGovernor
), Governor of Massachussetts with 6,909 TPM. The GOP keynote speech delivered by Chris Christie (
@GovChristie
), Governor of New Jersey had 6,079 TPM the previous week in Tampa. Overall, First Lady Michelle Obama?s Twindex increased from 71 just before to 84 after giving the speech. Romney? wife Ann (
@AnnDRomney
) had her Twindex increase significantly too from 45 to 83 in Tampa.
Twindex
is a reliable measure on Twitter that determines the favorability of users.