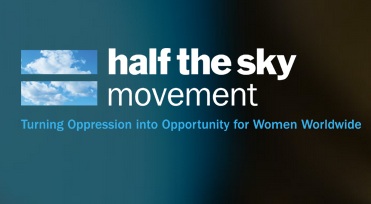 #HalfTheSky
is hoping to create greater awareness through a four-hour film that highlights the plight of women around the world. Nicholas Kristof (
@NickKristof
) of the New York Times and his wife Sheryl WuDunn (
@WuDunn
) has launched a campaign relying on posts and tweets to feature a documentary based on a book they authored and became a bestseller in 2009. 'Half the Sky: Turning Oppression into Opportunity for Women Worldwide' is a documentary co-produced by PBS. The move is a collaborative effort by the couple with the objectives of awareness through social interaction. The group aims to create a very interactive experience for viewers that will hopefully continue the social campaign weeks or months after the film. The essence of the film should remain even after the airing schedule. 'Half the Sky' will be following Kristof and a number of celebrity advocates like Diane Lane, Olivia Wilde (
@OliviaWilde
), Meg Ryan (
@RealMegRyan
), America Ferrera (
@AmericaFerrera
) and Gabrielle Union (
@itsgabrielleu
). These people will be featured traveling to different places like India, Africa and South East Asia to discuss the experiences of other people, especially the women. The first half of the documentary aired on October 1 and 2 on PBS, with the second half set for October 3. Kevin Dando (
@kdando
), PBS director of digital marketing, noted how #HalftheSky became one of the hottest topics on Twitter and refers to it as the 'single best collective use of SEO or search engine optimization and social media.' Here's the activity on Twitter. The hashtag garnered over 6,000 tweets per hour on October 1 and had more than 4,500 tweets per hour on October 2.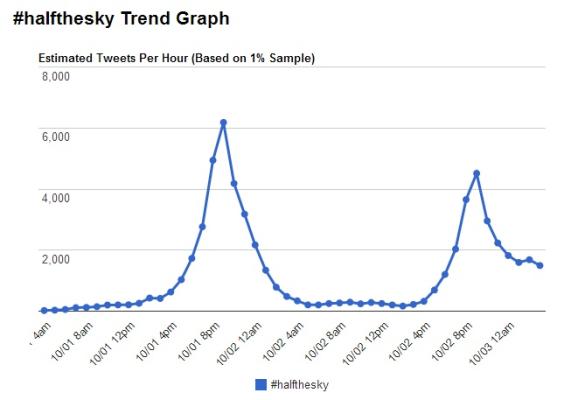 Courtesy of
Hashtags.org Analytics
According to the makers of the film, education may be a big step in helping people move out of poverty and this social networking strategy is an effective way to reach the most number of people with the least resources spent. Hollywood celebrities were also helping out to increase awareness by promoting #HalftheSky, including Melinda Gates (
@melindagates
), Jessica Alba (
@jessicaalba
)?and Ashley Judd (
@AshleyJudd
). The film is set to release a game on Facebook within the year.