??by?
?
Cristian_RH7
?
The long battle between conservatives and liberals reached another high by trending well on Twitter recently with the hashtag
#WordsThatOffendLiberals
. Supporters of conservatism are attacking President Barack Obama, a known liberal, for his views and programs that they claim to have an ultimately negative effect on the country. Obama has been the subject of criticism after vacationing in Africa and going to Egypt, considering that there were huge issues to face in the United States. His huge contributions to third world countries are also being questioned because America is still in its recovery stage after the global financial crisis. Online users resorted to Twitter to voice out their concerns on how millions are still jobless, hungry or lack healthcare, calling Obama?s intentions and motives "ineffective and un-American."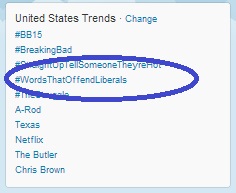 The hashtag
#WordsThatOffendLiberals
became a collection of the things that are deemed useless by conservatives and call on Obama to improve his programs as soon as possible. Some of the posts were serious in nature while others were just downright funny.
#Obama
.