??by?
?MyEyeSees
?
As people all over the United States are trying to find ways to avoid the much-dreaded fiscal cliff, President Obama (
@BarackObama
) said in a speech at the White House that everybody is pulling their weight to improve the overall financial status of families in the country. Netizens were encouraged to remind lawmakers of their part by initiating a Twitter campaign using the hashtag
#My2K
. Middle class families are the focus of the campaign and the hashtag is hoped to help the Congress better understand how important the next few weeks of strategizing will be. The newly-reelected democratic President announced how the public can help lawmakers by resorting to Twitter and using the hashtag #My2K to settle things quickly and begin working "from the outside moving inward to Washington." He urged Twitter users to share daily experiences and how much $2,000 could change their lives. "America has to move forward," according to Obama. What has not been accomplished in his previous term should be resolved now for everyone?s benefit, he added. As 2012 draws to a close, Obama told the Congress to hasten the pace and extend tax class for the middle class. In the previous years, Congress was unable to come to a decisive point, so the President, in his second term, is hoping that the democratic and republican parties can finally come up with a reliable framework that will work for the benefit of all citizens. The President shared how he intends to wrap up everything just before Christmas. The announcement was made to a group composed mostly of middle-class Americans. Here's the Twitter activity on #My2K so far, peaking with over 20 million impressions on November 28.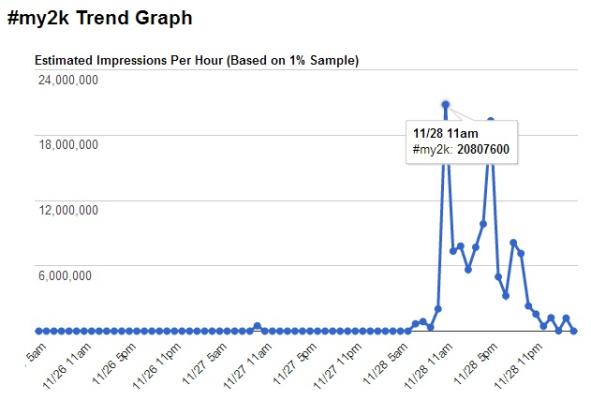 Courtesy of
Hashtags.org Analytics
Here are the related hashtags used.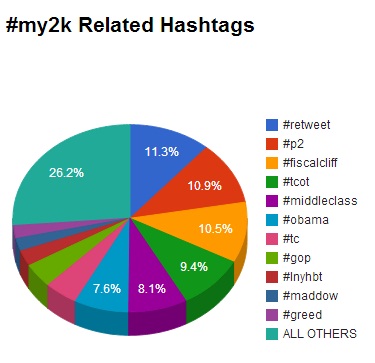 Courtesy of
Hashtags.org Analytics
Those in the upper class might not appreciate Obama?s plans of increasing taxes to increase the deficit reduction. He was very insistent on providing tax breaks for middle-income families or else they might have to endure a tax increase ranging from $2,000 to $2,200 in a few years. The hashtag spurred mixed reactions from the public.





The President said that people will sacrifice over two thousand dollars due to the fiscal cliff, which will definitely impact on their ability to purchase basic necessities, including rent and education. The tax increase for the upper class would at least include the top 2 percent of the population. How are you reacting to the fiscal cliff issue? Do you think #My2K will help? Let us know in the comments!