#DOI
to communicate with all citizens on the micro-blogging site. Sam Pitroda [
@pitrodasam
], the information infrastructure senior adviser to the Indian government, led the very first Indian government press conference where various matters were discussed related to future programs and opportunities. The hashtag
#DOI
was used, which stands for 'Democratization Of Information'. The goal of DOI is to create a strong information infrastructure that will provide information to individuals at a new level never realized before -- the Internet. During the online press conference, Pitroda stressed on how the huge population of India, numbering over 1 billion, can be properly tapped to build new opportunities, especially when it comes to public information infrastructure. Let's have a look at the activity for #DOI at the time of the conference.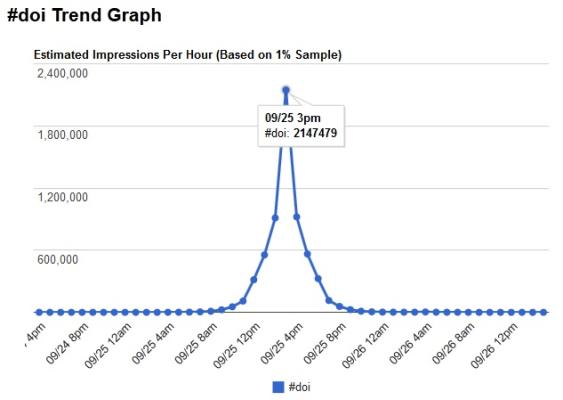 Courtesy of
Hashtags.org Analytics
More and more political leaders and influential characters in the Indian government are taking themselves to Twitter after discovering how the social media site conveniently gets them closer to their target audience. New generation leaders were the first to use tweets to share information and engage with supporters and other concerned citizens. Traditional politicians are now also learning how to use the same approach. Manmohan Singh [
@PMOIndia
], Prime Minister of the country became a Twitter user in 2011. Narendra Modi [
@narendramodi
], chief minister of Gujarat, and Mamata Banerjee [
@MA_MATI_MANUSH
], chief minister of West Bengal, are also known to be avid users of social media sites. Pitroda particularly focused on the PII or public information infrastructure among other optimistic communication opportunities featured on Twitter. He indicated that the PII will have a national information network that will link as many as 1,500 nodes for schools, libraries, laboratories and universities. Using fiber optics, 2.5 lakh panchayats will also be linked throughout India. The main objective of PII is to make a strong foundation to the Right to Information or RTI. With these developments, Indians can now more easily gain access to public documents and other types of information. Twitter users were also very responsive about the announcements and shared their own sentiments and opinions online.