??by?
?Shardayyy
?
Recently, social media giant
Twitter
introduced a new function that allows online users to share tweets using their email account. The new feature was introduced by the company on November 15, 2012 and is expected to be available for users in a few weeks. Before, posts were shared by forwarding these to users' respective followers. After several months, online users indicated how it could also be helpful to share posts outside the network. The objective of the upgrade is to allow Twitter users to email a tweet straight from Twitter itself. The
new feature
?will allow online users to email posts straight from the message stream of the social media website. Other things to expect include better iPhone and Android apps and improvements to the search function.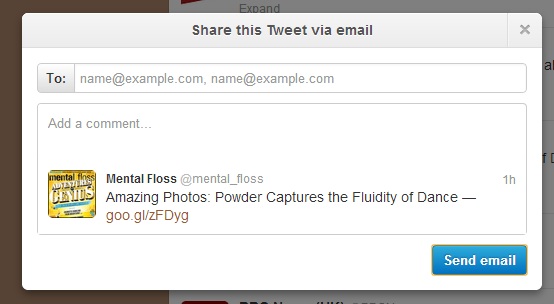 Twitter caters to over 400 million tweets on a daily basis, which is why it continually provides new features and improvements to existing functions to better categorize posts and help users find the most relevant topics. Other recent enhancements made to the social media site include the
Discover tab
, better ?
who to follow
? suggestions and follower and followed monitoring apps to better manage accounts. Moving out of the network to target even non-Twitter users will definitely see a rise in new accounts in the following weeks. Stefan Flip (
@Prostu
), Twitter engineer, confirmed the announcement, citing how Twitter users can easily retweet posts to their followers, but the desire to share it to other individuals and groups who may not have Twitter accounts still exists. This is one of the main reasons why the new feature was created. A number of Twitter programs like
Tweetdeck
and
Hootsuite
already have the new feature available.

Twitter users can start using the email-sharing approach by clicking on the icon ?More? beside the reply, retweet and favorite functions traditionally present on the website. Furthermore, online users can include their own posts or comments to the tweets they wish to share through email.