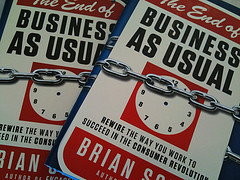 ??by?
?Definition 6: NYC
?
Business related
hashtags
?are a great way to start connecting with individuals in the same industry and building a network online for your venture. Organizations and companies have
created specific hashtags for their respective businesses
?to connect with clients and the general public on the Internet. By placing a team dedicated to attending to client-related posts via social media channels, firms have established better customer response rates and, ultimately, improved customer service feedback. And because the likes of
Twitter
?or
Google+
?are free and have an infinite number of users worldwide, the results of active marketing strategies via these channels have been positive.
What Is A Hashtag?
A hashtag is a word or group of characters that are preceded by a number (#) sign, as with
#business
. By inserting a hashtag in all tweets or posts related to the topic, users get to see all conversations about the subject in one thread by simply clicking on the hashtag itself. This way, the hashtag builds a community of Twitter users from all over the world talking about the same topic. Read more about hashtags in
'Why Use Hashtags? Guide to the Microblogging Universe'
?and
'Which Social Media Networks Use Hashtags?'
Here's an example of a hashtag chat on the hashtag
#business
.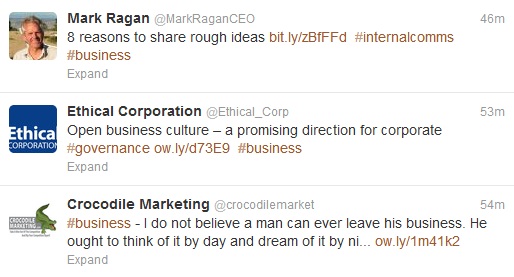 Starting A Business Hashtag On Twitter
If you want to create a hashtag community around your business, or simply start a
hashtag chat
?with users in the same industry as yours, you can. Read about the general guidelines in
starting a hashtag here
?and the
character limitations
for creating them.
Get Social
For your business, a good starting point would be to find out what business community on Twitter is talking about and what hashtags they are using at the moment. You can check out Hashtags.org for a list of the most updated, real-time hashtags being used. Here's an example of tweet chat on
#HBRChat
.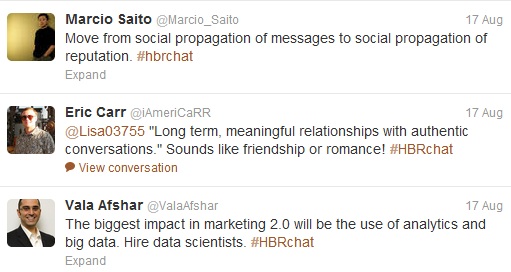 Next, you ask yourself what your goal for starting this hashtag is. Do you want to promote your product or business? You can start by first establishing a community of
followers
?who are in the same industry (or maybe even location) as yours. Once you have made connections online, you might want to start a
twitter chat
?or a tweetup to directly engage with people who are relevant to your business. A tweetup is an event where Twitter users get to meet face-to-face for social or business purposes, depending on the goal of the event. Read more about
tweetups
, what they do and how to start them here.
Be An Authority
If your business is new, you don't want jeopardize your chances of building solid Twitter contacts if you engage in hard selling. What you will want to do, however, is to establish yourself as an expert or viable thought-leader in your specific industry so people will want to listen to you. How do you do this? Share valuable insights, information and content on your tweets. Twitter is primarily all about sharing information with your followers and engaging in brief discussions about various subjects with other users. You can share trivia,
links
,
photos
?and other ideas related to your industry to inspire your followers to comment and share ideas of their own. This is a great way to foster business relationships online and carve a niche for yourself as the one to turn to for specific business questions.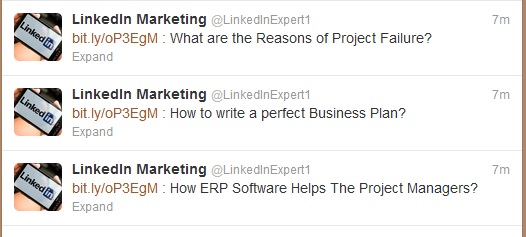 Remember:
Twitter users have a very short attention span and this is why tweets can go only as long as 140 characters. As a business person, your goal is not only to engage readers but also have them
retweet
(RT) what you post so it reachers more people. Thus, keep your tweets information-packed but very concise. We have prepared a list of some of the most popular
business-related hashtags and twitter chats
?you can participate in.