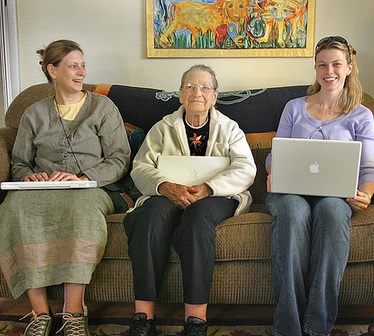 ??by?
?
lyzadanger
?
Twitter is not just for the younger generations. In fact, more of the more mature Internet users, your MOM, in specific, are considering getting on the social media craze just to know what the fuss is all about (if not to catch up on what you're doing without going through the awkward phase of asking you directly). Naturally, the first person your parents will ask about how Twitter is used will be you. Own it. Your mother or father taught you how to everything for yourself and patiently did so when you were young. It's time you teach your mom the workings of Twitter. If you're teaching your mom, or any first-time user, how to use the micro-blogging service without hitting the computer, starting with the basics: creating a profile page, initiating tweets, looking for the right people to follow and comping up with relevant hashtags.
Teach Your Mom the Selfie
The ?selfie? is described as a self-taken photo. First-time users usually decide to join Twitter because they own a smart phone or tablet. Have them take a selfie which they can use as their profile photo. Tell your mom not to use compromising photos of herself since thousands are going to be viewing it in the next few days. Help them fill out the personal information but teach them to be cautious about sharing specific details like the address or contact number. Let them have fun describing themselves in the bio. [Note: Do stress that a selfie is a photo you take of yourself. It does not mean a photo taken of you by other people.]
Teach Your Mom to Shout Out
After registering with Twitter, let your mom shout out her first tweet. Have her greet the world in her own unique way. Indicate some of the basic rules of tweeting such as the 140-character limit and prohibited use of profane and sexually explicit words and statements. Teach the first-time how important it is to tweet regularly throughout the week to continually stay visible and engage with other users.
Teach Her Not to Hashtag Everything
Tell your mom to use no more than two or three hashtags in her tweets. Describe the main function of a hashtag and how she can join some of the best-trending Twitter chats to meet new friends and ask them to participate in her first conversation. Educate your mom on the rules of maintaining a good hashtag by using the right keywords and separating these accordingly through proper capitalization. Putting the hashtag in the beginning or the end is the best way to keep it visible to users. She also needs to provide new content every now and then to engage with users.
Tell Her to Avoid Being a Proliferator of Spam
Differentiate spam from good quality tweets. Tell your mom to stop posting selfies constantly or tweeting about what she?s about to have for lunch or dinner every time. Introduce her to some experts in social media and have her join hashtags so she can learn the best approaches to get new followers. Of course, your mom being a novice, you need to let her know about the potential security risks that having a social media account may pose. For instance, tell her to not just click anything she sees. Also remind her not to post photos that contain personal or financial information. The Internet is the wading pool of criminals waiting for a clueless person to post his or her driver's license or, worse, credit card number online.