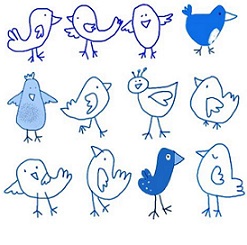 While some Twitter users are very successful at making well-trending hashtags, this doesn't mean you cannot do the same for your own campaign. You have to know how to address the target audience as well as exercise proper timing to keep the hashtag relevant, visible an interesting. Doing some research as well as aiming for the right individuals to join the conversation will help you market the brand better and lead to more followers.
1. Invite relevant users
Some of the best trending hashtags have several social media leaders. These are key individuals who command thousands of followers. When they join conversations, they usually include the hashtag in their tweets as well as promote these so you can get the benefit of attracting their own followers. You can also bring in the right people who can add input to the conversation and keep it interesting to grab a bigger audience. Mention or invite them personally to join the discussion and thank them for participating after.
2. Choose an interesting topic
A good hashtag is specific, direct and relevant. You can talk about a recent issue, a controversy, a big event or a particular person. You can also discuss classic topics but specify an aspect or feature to target more users. The hashtag should be interesting and important enough for people to join at the moment. Some topics have become regular trends because of their popularity and timelessness such as
#food
and
#TBT
or ?Throwback Thursdays?.
3. Invite people to participate
Successful campaigns usually give out prizes and other incentives for people who participate in their hashtag campaigns. Indicate the start of the campaign and set a deadline which will encourage people to join now to get the opportunity to win prizes and other bonuses. Also ask participants to retweet or share the hashtag to increase its visibility and popularity on Twitter. Provide good reasons for people to help trend the hashtag and offer rewards. Simple acknowledgements at the end of the campaign will also help.
4. Proper timing
Determine the particular times that the target audience frequents Twitter then share the hashtag during these key periods. You will realize how you can get more followers and boost the discussion by choosing the best time to tweet. Depending on the topic and target audience, you can gauge how well people are responding to tweets via a hashtag analytics tool.
5. Follow the experts
Visit and join a number of related hashtags then observe the elements that make these trend well for a few days. Some of the notable parts of a successful hashtag include choosing two to three keywords to create a specific hashtag that will let potential followers understand what it is about in a few seconds. Another is providing good content regularly and responding to questions immediately. Social media experts communicate with participants on a personal level and maintain a distinct personality that makes them easily approachable in the network. Evaluate the results of previous hashtag campaigns and cite the strengths and weaknesses based on actual follower growth and feedback from participants. Ask people to give their feedback and make the proper adjustments.