??by?
?
Steve Rhodes
?
Twitter, the world's largest microblogging platform, is going public -- are you buying?
In a 3 October 2013 filing with the US Securities and Exchange Commission, Twitter said it is ready to launch an initial public offering of common stock after generating a 107 per cent rise in total revenue from the first six months of 2012 to $253.6 million as at 30 June 2013.
Despite this massive increase, however, Twitter said that it is also losing money (reporting a net loss of $79 million for 2012) and will need extra funding to support its continued expansion. The firm, to sell shares under the name TWTR, intends to generate as much as $1 billion from the sale. The IPO filing marks the company's first release of revenue and earnings figures.
"If our revenue from our international operations, and particularly from operations in the countries and regions on which we have focused our spending, does not exceed the expense of establishing and maintaining these operations, our business and operating results will suffer. In addition, our user base may expand more rapidly in international regions where we are less successful in monetizing our products and services. As our user base continues to expand internationally, we will need to increase revenue from the activity generated by our international users in order to grow our business," said the firm in its SEC filing.
This news, of course, has not escaped the interest of the microblogging community, which immediately sent the hashtag (or CASHtag) $TWTR trending.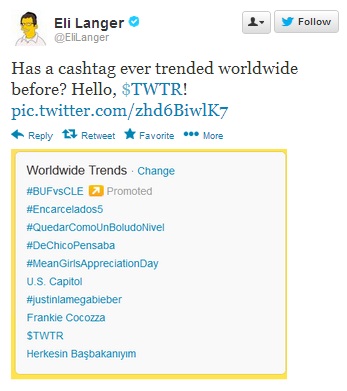 What is a cashtag? Cashtags, launched in July 2012, are clickable stock symbols that allow users to see all related stock information posted via tweets in one thread. These are normally preceded by a "$" sign (or the designated currency), instead of the usual "#" sign we find on regular hashtags. Some of the earliest cashtags referrring to publicly traded companies include $GOOG (for Google), $FB (for Facebook) and $APPL (for Apple).

Analytics identifies #Twitter, #IPO and #Investing as related hashtags.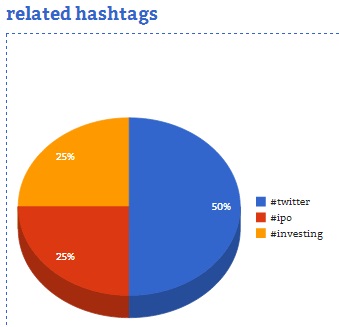 Chris Messina (@chrismessina), creator of the hashtag, has recently been placed under the limelight, with users either congratulating him for building a solid ground for Twitter to earn (despite being told way back that hashtags won't catch on) or getting emphatic notes (with some people saying that he should be getting first dibs on the offer).
And he should, right? After all, without hashtags, who would even think of making cashtags?