??by?
?
clasesdeperiodismo
?
According to a report by L2 Think Tank, Instagram registers consumer engagement 48 times better than Twitter and 18 times better than Facebook. One of the main features that helped catapult the social media platform to the top spot is visual appeal. There are currently about 100 million users, and luxury brands generally garner about 100,000 followers each. In the report called ?Intelligence Report: Social Platforms?, other platforms that focus on visuals like YouTube, Pinterest and Vine are also performing very well and engage consumers better compared to others that are text-based or blog-based. The ?Intelligence Report: Social Platforms? is an extensive report that monitors the visibility, engagement and reach of 247brands over 15 different social media platforms. According to the study, visual content is the most effective in boosting engagement among social media users compared to other approaches. Because of the visual appeal, Instagram users can even get in touch with brands that do not have an account on the platform. Hashtags are one of the main reasons. Many Instagram users come up with hashtags for different brands so they can discuss and share information with others online. Hashtags turn out to be very effective advertising tools that connect visual-based platforms with others. Brands should invest more on these, not just finance-wise, but crafting an effective hashtag that will attract users. Instagram recently introduced a video sharing feature so online users and brands can now pick between the photos and videos (or both) to engage consumers better. Currently, 35 percent of brands are active on Vine, the 6-second video sharing platform, even though Instagram has a lot more users. Regardless of its size and lesser popularity, Vine beats Instragram when it comes to interaction rate with posts and ?like? percentage for each post. Companies and brands are also turning to the social media platforms to entice and engage current and potential consumers. A number of brands invest in videos to advertise new products and offers like #dior by Christian Dior and
#LovePorscheFoS
by car company Porsche. Channels are created for luxury brands online and studies show that there is actually a direct relationship between the total views on the channel and the quality and quantity of content provided. Social media experts suggest that marketers and advertisers should first identify and locate their target market first before deciding to invest and establish their presence. For instance, by determining the most prolific users of
#Dior
, we get an idea of where its supporters are mostly from by looking at its top users' profiles. In this case, we find that its top fans are from the U.S., Japan, China and Buenos Aires.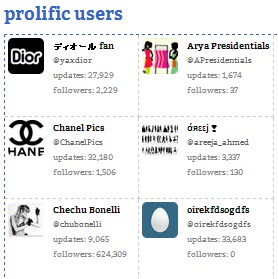 Courtesy of
Hashtags.org Analytics
Considering the fact that there are so many platforms available on the internet, marketers need to look for the right one that suits their objectives and expected consumers. And since we all know that Internet users generally have very short attention spans, going for visual stimuli will create the lasting first impression.