??by?
?The Birkes
?
The hashtag
#sandy
trended on Twitter on October 29 as Hurricane Sandy threatens to bring devastation to the 50 million residents of the US East Coast, where it is expected to hit first as the weekend approaches. The Category 1 hurricane was recorded at 75mph to 85mph by the National Hurricane Center, grounding thousands of flights when news of the incoming "stormpocalypse" came out. On Monday and Tuesday alone, about 7,500 flights had been canceled, all of which are due to the hurricane. Social media users from all over the country and the world naturally expressed their sympathy and concern for those living in the East, and also for residents of New York City and the mid-Atlantic coast, where #sandy is expected to hit next. Some posted updates as the storm started happening in their respective areas, while some information disseminated came from legitimate weather bureaus from across the country. Some tweets were injected with humor to help lighten the mood. In fact, according to Instagram, the photo sharing social media site, as of Monday afternoon some 233,000 images on #sandy were spread on the hashtag alone -- and that's not including the tweets on Twitter. We have here the tweet figures on #sandy at its peak on October 29.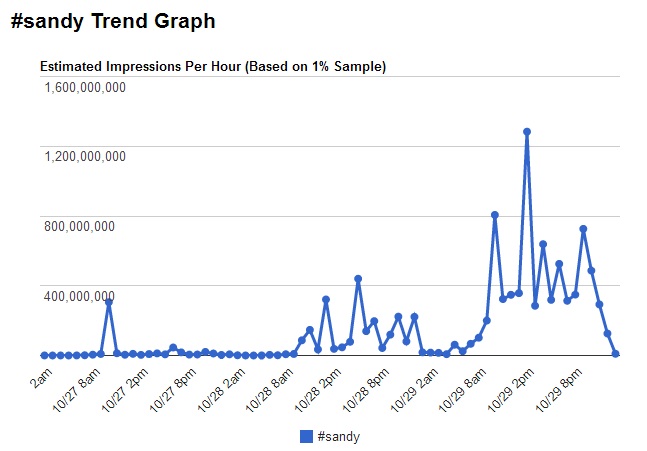 Courtesy of
Hashtags.org Analytics
As Hurricane Sandy continues, more tweets are expected to turn out bearing updates and information on emergency services and offerings of help from citizens whose areas not affected by the storm. You can get informed real-time updates on Hurricane Sandy through these sources: National Hurricane Center (
@NHC_Atlantic
) National Oceanic and Atmospheric Administration (
@NOAA
) American Red Cross (
@RedCross
) Federal Emergency Management Agency (
@fema
) Ready.gov (
@ReadydotGov
) Needless to say, following #sandy could help alleviate the possible destruction from this massive storm. Twitter users are encouraged to help disseminate emergency information, especially to those who don't have social media accounts.