First and foremost, Happy #Thanksgiving! The American holiday filled with tradition that dates back way before the nation was even established as a country has become one of yesterday's biggest trending hashtags. While holidays are usually accompanied by a big trending hashtag, #Thanksgiving brought out several related hashtags. The holiday itself is commonly associated with people and family giving thanks for something that they have thanks to their freedom in this country (hence the name THANKSgiving).

The graph displayed above?shows a general decline in the use of the hashtag, but it still retain pretty remarkable Tweet rates. The #Thanksgiving hashtag started to peak pretty early in the day, most likely as folks were waking up and immediately thinking about what their plans were for the day. The steady decline may show that people started to walk away from social media to spend more time with their family and friends without distractions. Along with #Thanksgiving, there were plenty of other hashtags that arose.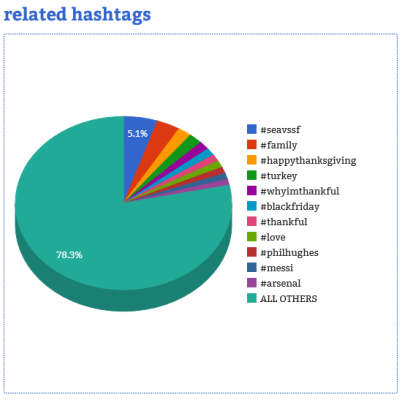 Football (including soccer), virtues, and food-related hashtags all arose during #Thanksgiving, which makes perfect sense as these are what #Thanksgiving is all about. People expressed how much they appreciated being able to spend their holiday with their loved ones or reminisced about their favorite dish of the day.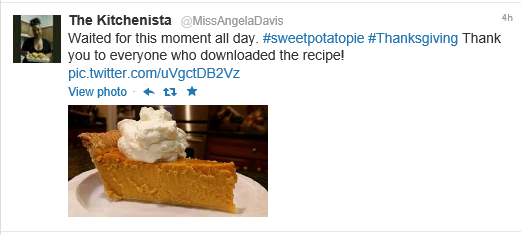 Plenty of people shared their feelings with their friends and followers to encourage them to show them how their #Thanksgiving went. According to social media, this year's #Thanksgiving was definitely one to be remembered for awhile. Of course, with #BlackFriday lurking around the corner, many businesses took time to advertise amidst the #Thanksgiving holiday. Except both positive and negative Tweets about this "National shopping day" to pop up all day today. While certainly not as light-hearted and cheerful?as the #Thanksgiving Tweets, there will be some mention of wonderful days ahead as the month comes to a close. See definition:
/definition/thanksgiving
Featured graphic: From TeensReadAndWrite.com Creative Commons Attribution-NoDerivs 3.0 Unported