Twitter is getting better at coming up with diverse Twitter games. This week saw plenty of participation in the use of
#MyLastWordsIn5Words
which was much more developed than most other recent Twitter games. This is because of its ability to diverge from a sample of choices. Instead of limiting the subject to movies or another category with the possibility of repeated choices, #MyLastWordsIn5Words allows for people to have some fun mixing up an unlimited number of ideas. From something silly to something more serious, people could talk about multiple categories such as incorporating a favorite music artist or a type of food they really enjoy. Because of this diversity in participation, this trend lasted for quite some time and is still continuing to show up.

Courtesy of
Hashtag Analytics
Of course, with the introduction of it a couple days ago, the majority of Tweets were from that day. Still, the Tweet rate was still significant enough to keep it up as one of the top trending hashtags of the last couple days. Because this was a Twitter game and not a hashtag developed to capture some event, there weren't very many related hashtags. The ones that are "related" are simply other trending topics at the time and were mostly incorporated into Tweets to gain followers. Still, the hashtag was pretty popular. It was used by regular folks, organizations, and even some businesses who found a way to sneak in a subtle advertisement utilizing the hashtag.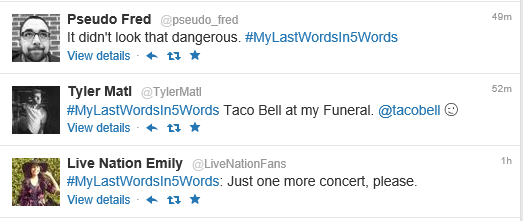 Most of these Tweets appeared to be humor related to some interest the Twitter user holds. There are a few examples above that demonstrate this, which is pretty common for these types of hashtags. Although #MyLastWordsIn5Words declined pretty fast, its lifespan could be an indicator that there will be more like it in the near future.