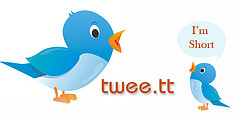 ??by?
?Shekhar_Sahu
?
Because a Twitter post can only go as long as 140 characters,
posting a link
?with your tweet can eat up all the available space and leave no room for a personal message. It's also very annoying to look at a thread of tweets with only URLs on them and no introduction on what the link is all about.
Twitter
?is a magnificent space to engage in with people all over the world. And with only 140 characters to deal with, getting a message out plus a link can be and look like a chore. [Read more about appying
etiquette
to your posts.]
URL shorteners
?were created to help save space on a Tweet, reducing the character count for a URL to 20 characters or less. This leaves you room for a short intro to the URL or a personal note asking your followers to check the link out. For online marketers, URL shortening services sometimes also offer a tracking feature that allows users to monitor how many times the shortened linked has been clicked over a certain period.
Here's what a post with regular URL looks like.

Now here's a post with a shortened URL.

Take note that URL shorteners are not to exclusive to Twitter and can be applied to other types of social media, such as
Facebook
,
Pinterest
,
Instagram
,
Google+
, etc. This is to make your text look a lot less cluttered when posted and, thus, more inviting to your readers. Twitter itself has an internal URL shortening function, represented by
t.co
. Here is a list of some of the most widely-used URL shorteners in the social media space.
Popular URL Shorteners
-
bit.ly
-
goo.gl
-
tinyurl.com
-
ow.ly
-
su.pr
-
is.gd
-
cli.gs
-
tiny.cc
-
sn.im
-
moourl.com
-
l.gg
-
catchylink.com
-
short.nr
-
para.pt
-
twurl.nl
-
snipurl.com
-
budurl.com
-
xrl.us
Do you have other URL shorteners to add to this list? Make sure to let us know in the comments so we can bulk this list up!