??by?
?DonkeyHotey
?
Bring cartoons into a serious UN meeting and you find
#Netanyahu
trending. Twitter fans are having a field day sharing photos of Israeli Prime Minister Benjamin Netanyahu (
@netanyahu
) holding a diagram with a cartoon drawing of a bomb at the most recent
#UN
conference. This is not the first time that a world leader has garnered attention through humor and oddity. Nikita Khrushcev, former leader of the USSR, took off his shoe at one council meeting and banged it several times on the table. Venezuelan leader Hugo Chavez referred to former President George W. Bush as the devil by holding his nose while giving out a speech at the podium. He said he had to do it throughout since the place smelled like sulfur since Bush (or the devil) has been there before. Colin Powell, former Secretary of State was also featured in major blowups on the Security Council walls, referring to the nuclear plants of Iraq. In Netanyahu's case, the PM brought and presented a diagram to feature the vital role of the United States in the proposed dismantling of the nuclear program conducted by Iran. The Israeli leader wanted to emphasize on the key role of the US in the prevention of any such attacks. However, while the subject was serious, it was the drawing that drew a lot of funny comments online because of its cartoonish look. Netanyahu drew a red line that was quite similar to how cartoon characters plan to attack their own equally funny enemies on television. The photos immediately became viral as mobile devices were used to take photos of the world leader and his colorful stick figure diagram. Once posted on Twitter and other social media sites, the pictures gained mixed reactions from online users. Some maintained a serious tone and indicated their own opinions on the growing tension in the Middle East. Others took light of the situation and shared funnier messages and tweets, focusing more on the appearance of the bomb diagram. Here's how the hashtag #Netanyahu fared during the meeting.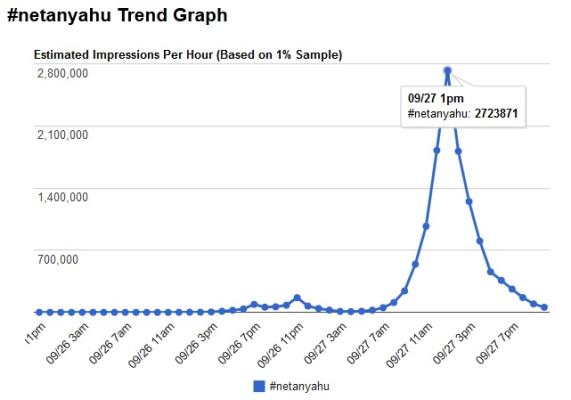 Courtesy of
Hashtags.org Analytics