??by?
?Tsubaki Kaworu
?
Twitter recently introduced a number of design changes plus a new application for iPad. The new design, unveiled on the Today Show, features a look that likens it a lot to Facebook, with the goal toward an emphasis on user profiles and images. All of changes are now available on the iPad, iPhone and Android devices. The new look allows users to conveniently upload a header photo. The company describes the move as assigning a huge amount of real estate onscreen, now found at the top of the page just over where the tweets are.
In its blog
, Twitter posted: 'Starting today you can make your presence on Twitter more meaningful with new Twitter profiles. Upload an all-new header photo on mobile apps for iPad, iPhone and Android or twitter.com, and the same image will appear whenever anyone views your profile on the web or these apps. You can upload your header photo, which appears above your Tweets, to express yourself instantly, anywhere.' Dick Costolo (
@dickc
), CEO of Twitter was the one who introduced the new design on the Today Show. He said, 'Users want to bring more of their personality to their profile pages.' Check out Costolo's new profile page.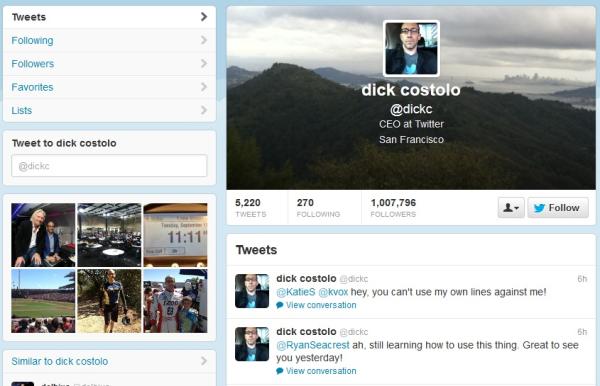 Enhanced photo sharing is another new feature on the redesign, according to Jaikumar Ramanathan (
@jramanathan
) of Twitter. He indicated: 'Photo streams for profiles display the images people have shared on Twitter. Whenever you see a photo stream, swipe left or right through the thumbnails or tap to view photos in fullscreen mode. Android users can also get closer to photos with pinch-to-zoom.' The redesign garnered mixed reactions from Twitter fans and other social media experts. Many like the new appearance, saying that it helps the user say more about his personality and adds to the interactive and dynamic environment that the site is famous for. However, some also said how the changes make the process more complicated. Do you like what Twitter has done for profiles? Let us know in the comments!