Saving A Hashtag Search On Twitter
Vanessa Doctor July 28, 2012 1
Hashtags are a great way to gather information on a specific subject as it allows you to view all conversations made about it under one thread.
It is different from Lists in a way that it classifies discussions according to the topic specified by the hashtag, whereas lists group accounts according to their user names.
For a more convenient Twitter experience, you have the option to Save the hashtag thread that you regularly follow on Twitter so that you won't have to type it in everytime you log on and want an update. Your saved hashtag list will appear on your home page so are your reminded all the time on which topics you're monitoring and are able to access these easily.
Read 'Why Use Hashtags?'
Saving A Hashtag On Twitter
1. Enter the hashtag you want to search in the 'Search' box and its corresponding thread of conversations will appear.
2. Click the 'Save this search' button to save it.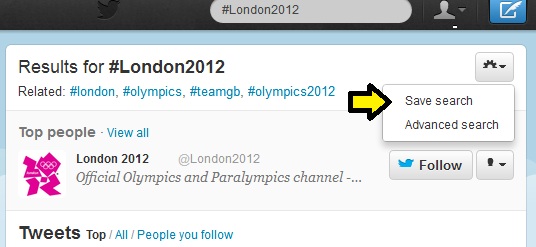 3. To check if your hashtag has been saved, you may access it via your Home Page. Just click on the Searches tab (the one with the magnifying glass) and a drop down menu will appear showing your saved hashtags.

Via Third-Party Applications
Third-party applications like HootSuite, Tweetdeck and Monniter allow you to save hashtags as columns so they're a lot easier to read. You may download these for free and install on your desktop or mobile phone.
Read about other Basic Twitter Strategies.
Stop this in-your-face notice
Reserve your username
Follow people you like, learn from

Extend your profile
Gain reputation for your contributions
No annoying captchas across site
Leave a Comment