While a couple's wedding day is traditionally the moment they promise to become eternally bonded, it is also a very sensitive moment for figuring out one's true self. Not knowing one little detail could cause one individual?of the marrying couple to completely cancel that wedding. A Twitter game,
#RuinAWeddingIn5Words
plays with that scenario. Participants come up with ways to give the bride or the groom a reason to call off their wedding based on only five words. This was?Another well-thought Twitter game as there were a multitude of good options. The large variation led to a lengthy trend of the hashtag as it was used for a couple days.

Courtesy of
Hashtag Analytics
As with most Twitter game hashtags, #RuinAWeddingIn5Words wasn't associated with many other related?hashtags except for those that were popular for retweets and new followers at the time. However, the hashtag did gain plenty of credit with advertisers, celebrities, and famous social media accounts. It was a fun way to interact with the social media communities while sharing a laugh with friends. There were plenty of great ideas shared as everyone created some good jokes.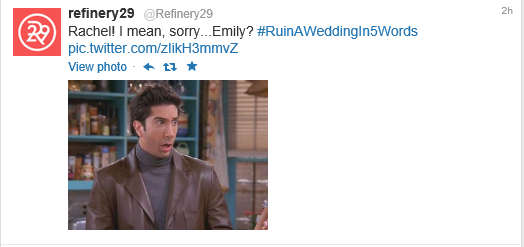 There were even a few popular television moments highlighted with the?#RuinAWeddingIn5Words that fit right in. This hashtag actually allowed participants to have a light-hearted way of sharing what they think would ruin their own wedding. Being such a popular hashtag, this one might not go away as fast as usual. The majority of Tweets were late on Monday but the hashtag remained a popular trend throughout all of Tuesday although it never reached the high rate it did originally. Still, this hashtag was a good way for social media to have some fun online, especially after some were disappointed with the lack of "record-breaking snow" during the #BlizzardOf2015. It also made for a good transition into the middle of the week.