??by?
?Steve Rhodes
?
Days of violence and unrest between Israel and military forces in Gaza have prompted the rest of the world to resort to social media and call for a ceasefire while spreading words of peace. Ido Simyoni, an Israeli TV producer, thought of using social media to immediately spread the news and hopefully invite others into the
online campaign
to help stop the hate and terror in the region. Simyoni initiated an activity where people online can share pictures via Instagram and tag the images using the hashtag
#stoptheterror
. As of November 19, 2012, over 5,000 pictures were posted by online users from different parts of the globe. The hashtag was actively used on Twitter, as well, reaching 116,600 impressions per minute at their peak.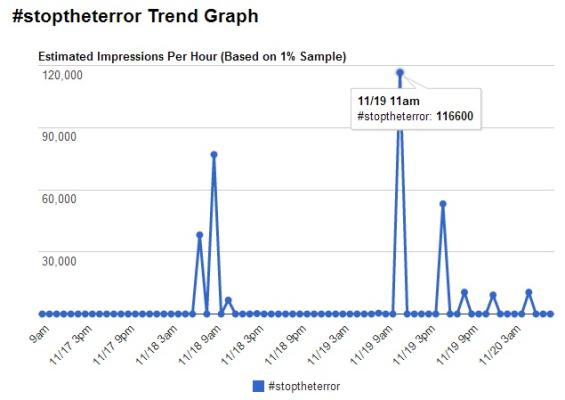 Courtesy of
Hashtags.org Analytics
According to Simyoni: ?Terror is everywhere and it doesn?t matter if you are from Tel Aviv or NYC, you can get attacked.? His words signified that acts of terror, although localized in his native country in the meantime, can affect people in different parts of the globe. Any person in any country can be a victim of terror so it is important to boost awareness and let people know about the effects and consequences. As of this writing, ceasefire efforts have failed, spurring the United States to send warships to quickly evacuate American citizens. A comprehensive ceasefire was supposedly underway, as told to American President Barack Obama and German Chancellor Angela Merkel, as soon as the attacks originating from Gaza stop. Over 900 were injured and 115 died in less than a week of the terror and violence. Twitter users can follow the latest updates and also share their own views using the hashtag #stoptheterror. The recent attacks on Israel are all part of Operation Pillar of Defense with a barrage of rockets hitting different parts of Tel Aviv and its southern regions. Prime Minister Benjamin Netanyahu cited that Israel was ready to spread its operation in the Gaza Strip.