??by?
?Jeni Rodger
?
Buying crisps?
#Tweetshop
is your currency. Kellogg?s introduced the widely popular Special K Cracker Crisps to the United Kingdom recently with a rather unique marketing strategy. The company opened The Tweet Shop and is currently promoting the new product and shop on Twitter with the hashtag #tweetshop. Kellogg?s aims to get a lot of tweets from online users and will be giving away boxes of the new product to those who do. Special K Cracker Crisps boast of being healthy snacks since they do not use potatoes. Featuring three unique flavors, sea salt and balsamic vinegar, sour cream and onion and sweet chili, the crisps are priced at $1 per pack. The Tweet Shop is found in the Soho area of London. The marketing team of the new brand actively look for tweets featuring the hashtag and showcase these via a huge LCD screen. Every time a tweet from any online user comes up, the person gets a free box of crisps. Naturally, people flocked to the social media site to get a chance to avail free snacks. Pushing a new product via social media and an actual shop is one of the most innovative ideas that Kellogg?s has come up with to date. Advertising experts say that companies that understand how social media works and affects consumers will be essential for continuous growth and innovation. Here's how #tweetshop fared.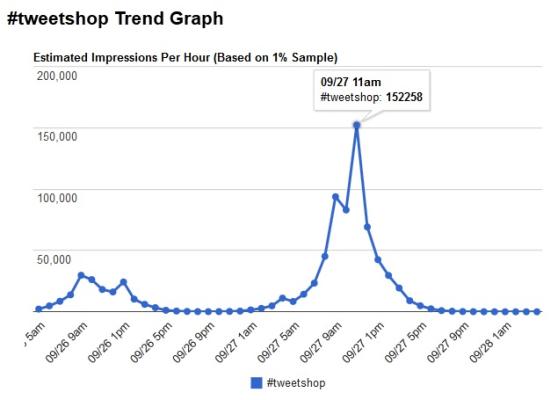 Courtesy of
Hashtags.org Analytics
Sarah Case, Special K brand manager said that they are very pleased with the results and are proud to be the first group to invest in social currency to introduce a new product. The Tweet Shop is a pop-up store that will only be open for four days up to September 28. Twitter fans can easily convert their tweets into free products in the next remaining days.