#SorryNotSorry
is trending well on Twitter for many good reasons. Social media fans are talking about past experiences, celebrity breakups and other things that they may or may not be proud of doing in the past. Some are even proud to share that they continue to do the same seemingly foolish things at present. Many of the tweets are also about statements that people are never sorry for speaking their mind about. Here are some of the best reasons why the hashtag continues to do well.
1. People are fond of remembering the past
Many of the posts on #SorryNotSorry are about memorable experiences when people realized good and unique things about themselves. Some of the posts are about people wearing silly clothes to school or dressing according to the fashion trend decades ago. There are also several posts about ex-boyfriends or ex-partners wherein social media users talked about the things that they regret staying in the relationships for despite the odd and difficult circumstances.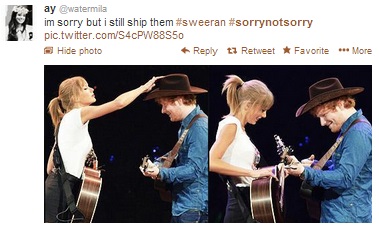 Many posted how they found the experience worthwhile despite the challenges and how they learned much from it by avoiding similar situations in the future. Generally, the hashtag became an opportunity for social media fans to look back at their past and determine which were most memorable.
2. Memes are always fun
There are several posts about famous celebrity breakups and other outrageous things that Hollywood stars did. People shared how they were not sorry about Selena Gomez and Justin Bieber breaking up. There were also uploaded memes and photos showing celebrities in awkward moments. Some shared quotes on how people should not be sorry for things that they stood up for regardless of the effects. The visual appeal and wit of memes are ideal for #SorryNotSorry since people can express both embarrassing and fun moments in a creative manner.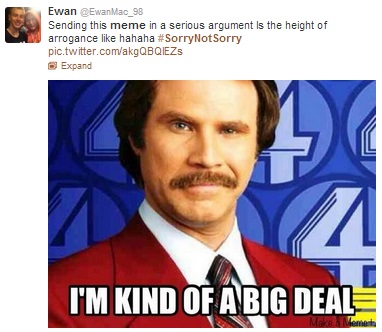 3. It expresses people?s emotions
People like to share their feelings without looking desperate. The hashtag #SorryNotSorry is a great avenue where social media users can discuss their sentiments and feelings over particular topics without having to worry about negative feedback.

Individuals can freely talk about sports, politics and sexual preference and share their personal views on relationships and past experiences. It is a great opportunity for people to be proud and share real and interesting opinions on various matters.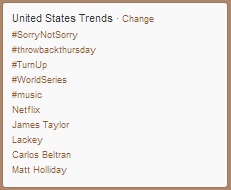 The hashtag #SorryNotSorry continues to trend well on Twitter as people share their worst experiences, bad habits and other equally outrageous confessions.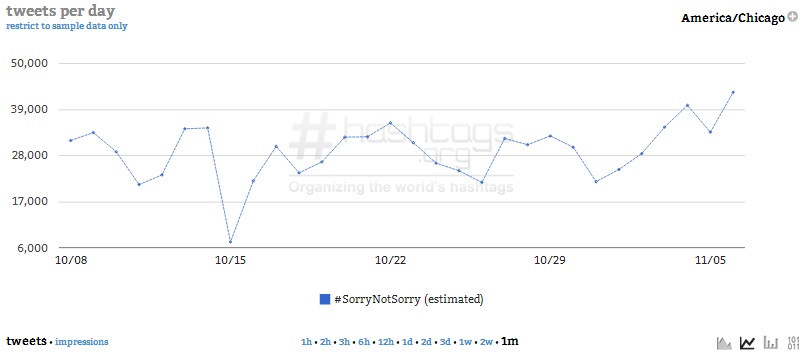 Courtesy of
Hashtags.org Analytics
In the past 30 days, the hashtag has generated over 870,000 tweets and 651 million impressions.