??by?
?
benoit.crouzet
?
SoLoMo stands for social (So), local (Lo) and mobile (Mo) platforms, which describe the way small enterprises deal with customers to generate increased sales, get loyal clients and stand out from many others in the competition. The term itself began after a brainstorming session among three venture capitalists in 2010: John Doerr, partner at Kleiner Partners, Chi-Huan Chien, former advisor at Accel Partners, and Bing Gorden, former CEO of Electronic Arts. Since millions of people around the world rely on mobile devices and social media tools to get more attention and build their reputation, it is only proper for businesses to invest in social media strategies and incorporate these in their overall campaign.
The Growth of Social Media for Small Businesses
Small shops partner with mobile advertising sites and social media platforms that make them more visible target clients. The creative ideas used by entrepreneurs will also ignite buzz among customers, leading to increased growth, sales, and added customers. Small businesses can think of unique ideas that will draw more customers and have them talking about related products and issues on social media channels. In the United States, over 125 million have smartphones and use social media to get information, updates or even shop. A few of the giant social media companies are constantly introducing new features to improve engagement. According to BIA/Kelsey Vice President Peter Karislovsky, social mobile ad income can grow by as much as 1 billion dollars in the next four years. One of the main reasons includes small businesses investing heavily in these to draw more customers. Traditional approaches are still used although more companies are discovering the positive effects of social media advertising and solutions. Small and medium sized businesses find it very helpful to generate awareness quickly, using a variety of available tools and features online. Target customers can simply refer to pictures, articles and blogs to know more about shops. Here's what people are saying about
#SoLoMo
online.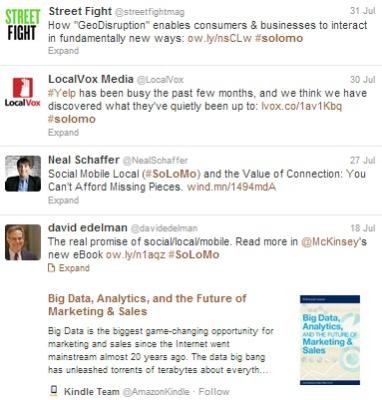 What Small Businesses Should Do
Since majority of businesses are not yet aware of SoLoMo, they will either find out through others using the approach or come across it while spending time in a social media channel. According to LocalBlox CEO Sabira Arefin, SoLoMo is a new term for many small enterprises. When shops discover it, they can start thinking of new ways to attract target customers. The platform can be arranged so that information will be available immediately to mobile users. There will also be associated transactions and promos to attract clients and focus on important business solutions. Millions of people in America and around the globe are using mobile devices. It will be cheaper and more convenient for small businesses to try SoLoMo instead of traditional advertising methods. Business owners and marketers can save time, effort and money. They can easily adjust the offers according to the current demands of the market. Marketing will further be specified to cater to small and medium enterprises so they get the benefits of a full mobile website.
SoLoMo Ideas
Based on reports on the Internet, it may take a while for the term "SoLoMo" to catch on to techspeak, but it can't be denied that it may be something we all can benefit from as online entrepreneurs and developers. As we can see from the analytics, #SoLoMo shot up in May, when it was first introduced, but then did not see much activity thereafter.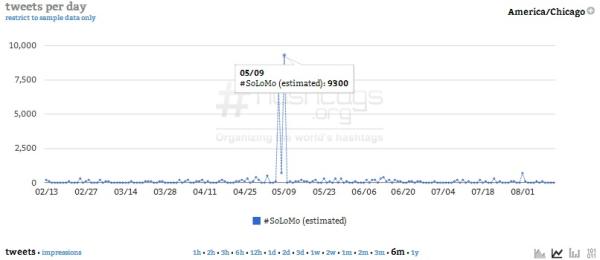 Courtesy of
Hashtags.org Analytics
Business owners are free to decide how they wish to incorporate the different social media tools and activities according to their cause and online objectives. They can host contests, encourage people to take photos, provide discounts and coupons, give out free items or send out informative materials. Customers can immediately share the ongoing activity and updates to other potential customers in the network. Does your current strategy adopt SoLoMo? What do you think of this move? Tell us in the comments!