The College Football Season run by the NCAA contains some of the most sports traditions in America. At the end of each year, the fight for
#OneFinalTeam
in the top 4 narrows down to one week. With a huge fluctuation in rankings, College Football has been known for throwing fans into a spiral when trying to predict who would come out on top after numerous unforeseen upsets.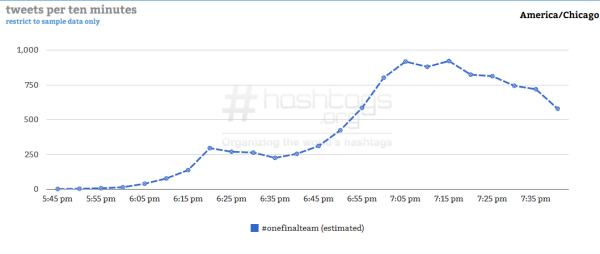 The hashtag
#OneFinalTeam
arose after Dr. Pepper (the soft drink brand) published a social media poll featuring the top?few teams in the country. With Florida State, Oregon, and Alabama claiming the top 3 positions, participants are asked to pick the last team to clinch the top 4. Of course it is meant to be a fun way of advertising, but it gives active social media users an easy way of showing their opinions on the final game. While the trend didn't reach extraordinary heights, it is still early in the week and not a single game has started. Perhaps when the weekend comes closer,
#OneFinalTeam
will become more prominent. It did, however, become prominent enough last night to reach one of the top trends.



While some people bragged about who they "know" is going to make it, others found it easier?to express their doubt in?the abilities of others.


There were plenty of conflicting Tweets, which?were surely inspired by the competitive College Football season. As this final weekend of regular play approaches, Twitter and social media will most likely be consumed by College Football anticipation. While there's only room for 4 teams total in the top 4, the entire football fan base will be celebrating another great, unpredictable season. Even with the season ending, these fans will be preparing for the next month full of a championship game alongside plenty of more unpredictable, action-packed?bowl games. Except a few more hashtags other than
#OneFinalTeam
to reach an impressive trending status. Definition:
/definition/onefinalteam
Featured graphic: From PracticalPedal.com. Creative Commons Attribution 2.0.