??by?
?
niallkennedy
?
Even though more politicians, business tycoons and celebrities are creating their own social media accounts in various websites to get closer to fans and supporters, only a handful of chief executives are social media users. This bit of information is important to online marketers, because CEOs form a huge part of the decision making process and in determining the company's direction. If a CEO is not engaged on social media, or worse, is does not know about its business merits at all, it will be a challenge for the company to jump forward technologically. On the contrary, a decision maker who is active online understands why social media is crucial to growth and can be more open to experimental strategies using the Internet. A study was conducted by
CEO.com and Domo
, which focused on the top 500 CEOs on Twitter, Facebook, Google+ and LinkedIn for a span of two weeks from May 6 to 20, 2013. Based on the results, only 32 percent of the biggest CEOs in the world have an existing account in at least one social media network. About 68 percent do not have any visibility or presence on social media networks. Among the social media sites, most of those who have an account use LinkedIn. About 140 CEOs or almost 28 percent have an account on the website. Although there are more celebrities personally posting on Twitter than Facebook, there are fewer CEO users. Only 28, or 5.6 percent, from the top 500 groups are on Twitter. One famous CEO on social media is Donald Trump (
@realDonaldTrump
), who is very active on his account by commenting on various issues and even posting random thoughts. By being available and "reachable" online, Trump narrows the gap between him and the public, allowing the latter to get comments to him directly. For most CEOs, this may seem like Trump is digging his own grave by exposing himself. Fortunately, the tycoon is a very a good sport. See how many retweets and favorites his posts get on Twitter.

A CEO supporting a specific hashtag can also help with engagement numbers. Observe how the hashtag #ChennaiExpress maintained its high numbers after Mahindra Group chairman and managing director Anand Mahindra (@anandmahindra) retweeted it. Mahindra has over 800,000 followers on Twitter alone.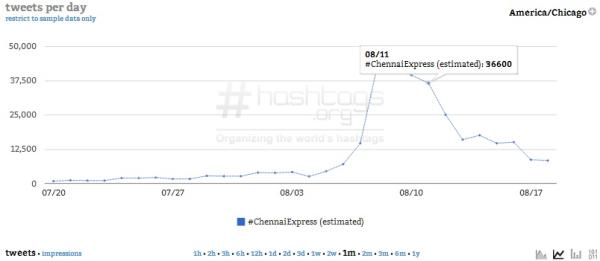 Courtesy of
Hashtags.org Analytics
A Pew study also confirmed that more CEOs are on LinkedIn compared to Twitter. Only 19 out of the 28 on Twitter are deemed active, which means that they have posted or tweeted at least once in the past 100 days before the study was performed. Those active, have an average tweet of 1 per day. They also gain about 838 new followers every day on the average. Google+ has the least number of CEO users with only 5 among those polled. The study also confirmed that about one-third of the existing CEO accounts were fake or parody accounts. Donald Trump has over 2.3 million followers on Twitter.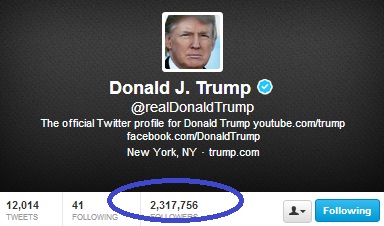 Other CEOs with a social media presence include Virgin founder and chairman Richard Branson (
@RichardBranson
) and Doug Conant (
@DougConant
), chairman of the Avon board and former CEO of Campbell's Soup. Both Branson and Conant follow a lot of people.