??by?
?
meanmachine_ie
?
A recent study conducted by the
Pew Research Center
showed that more adults are using social media in 2013. This is good news for social media marketers, who now have a greater chance to reach out and connect with the spending public. There was a rise of 72 percent among adults for 2013, compared to 67 percent in 2012 and 64 percent in 2005. Majority of adult users are aged 18 to 29 years old, followed by those in the 30 to 49-year range. 43 percent of adults over 65 years old also use social media. This means that senior citizens have almost increased their use of social media by three times in the past 4 years. In 2009, there were only 13 percent.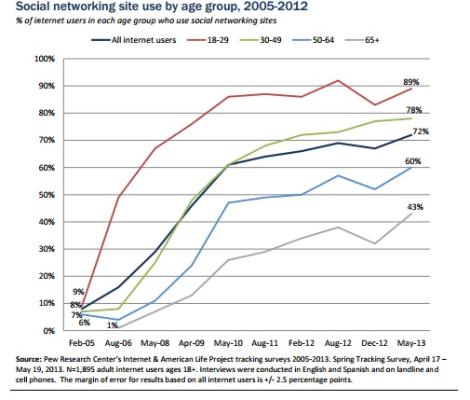 Photo from Pew Research Center
There were also similarities and differences shown depending on the gender, educational background, occupation, location and culture. 70 percent of men and 74 percent of women use social media. 80 percent of Hispanics, 75 percent of black non-hispanics and 70 percent of white non-hispanics are members of social media networks. The percentages among college level and graduates were almost the same at 72 percent. There were also very close figures regardless of the household income and the location. On micro-blogging site Twitter, however, there were more comparable differences in the numbers. There were twice as many Hispanic users (28 percent) than there were white Hispanics (14 percent). The number of users also grew as the household income increased. Only 15 percent are users among households earning under $15,000 a year. 22 percent are users among those earning over $75,000 a year. 11 percent of people living in rural areas are Twitter users compared to the 21 percent of users living in urban areas. Only 18 percent of social media users are on Twitter, although the majority age is still between 18 to 29 years old. The age group has grown by more than twice in 3 years. There were only under 15 percent in 2010 compared to 30 percent in 2013. Senior citizens do not use Twitter much, growing only 1 percent in 3 years to 5 percent. These numbers can be very helpful for social media marketers in determining the trend and devising strategies to cater to the target market better. While social media is commonly thought of as an activity for the younger generation, the fact that more of the adults are realizing its value is great news for advertisers, indeed.