Twitter Oscars Index
which will reportedly efficiently calculate how the Oscars might turn out. It also aims to measure how the audience feels about their favorite stars and their performances. The index will base the results on conversations among Twitter users at any time. Their tweets will be divided into positive and negative and then calculated accordingly. The platform lets Twitter users view the overall sentiment for Oscar nominees in the highest classes. You can find the interactive line graph to check how well actors, films and directors are doing as far as audiences from different parts of America and the world are concerned. Here's how the page looks.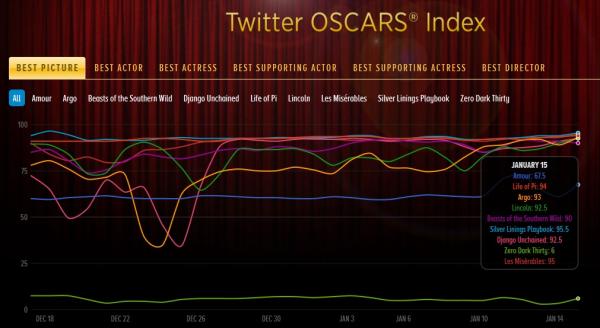 Sentiments are determined and will indicate the possibility of actors, directors or films winning the category. Amour was rated well by Twitter users and actually garnered Best Foreign Language movie during the recent Golden Globes Awards. However, Zero Dark Thirty did not get a lot of positive sentiments but actually had five nominations. The sentiment line will also be useful in pointing out potential stars. Although the results will not 100 percent determine the actual outcome of the Oscars, people will at least get a lot of insight and have the most accurate possibilities. In the upcoming awards in February, Life of Pi and Silver Linings Playbook were the best rated on the Twitter Oscars Index. According to Twitter, the films were positively discussed by online users. Social sentiment in this case is shown to be very helpful in providing information on how people perceive various events. Aside from the film industry, there are several other applications that will further show how products and activities might do based on the response of social media users. For our reference, here's a graphical look into how the nominees for "Best Picture" are faring in the past week, based on the number of tweets about them per hour.
Amour

Silver Linings Playbook

Zero Dark Thirty

Les Miserables

Beasts of the Southern Wild

Life of Pi

Django Unchained

Argo

Lincoln

Who's your bet for the Oscars? Let us know in the comments!