#LiveYoungJanuary
, which asks followers to share how they act young in their own unique ways. The campaign started on January 1, 2014 and will continue for the rest of the month. There will be a new message every day and the campaign will also be featured in other advertising media including newspapers, escalator panels and digital screens all over London. There will also be in-store promotions all over the United Kingdom and Ireland. The advertising approach was created together with 360 Communications, We Are Social, Mad About Design and Havas. Evian followers are asked to include the hashtag #LiveYoungJanuary in their posts to win special rewards. There are also virtual Child on Board badges, spoofs of the popular Baby on Board Badges for individuals who post the brand during the month. A survey will also be conducted to cover the campaign and other bonuses are also expected in the following days. To date, while the hashtag is primarily geared toward European residents, the all-encompassing nature of the tag itself makes it very relatable to anybody outside of the continent. See how far it has gone since January 1.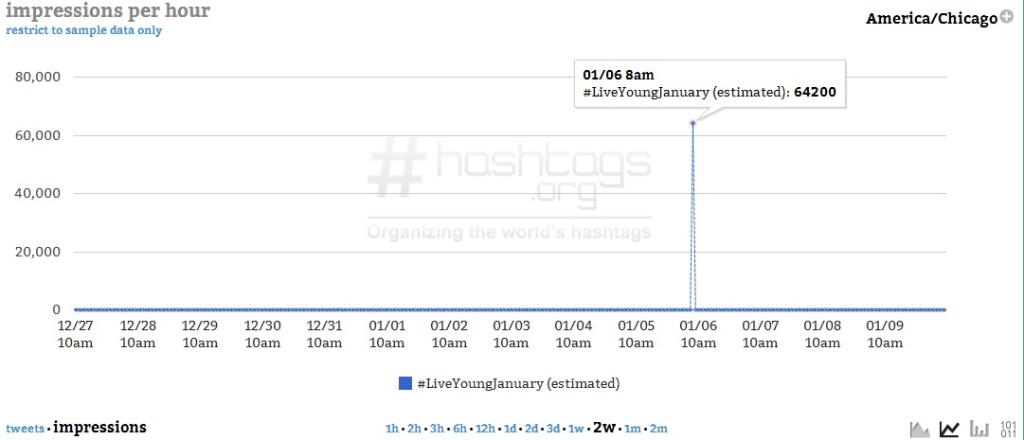 Courtesy of
Hashtags.org Analytics
In 2013, Evian was creative enough to come up with snowmaking playgrounds for adults. For 2014, the brand plans to have people bring out and experience their young selves again as they return to work. They expect thousands of commuters to see the ads in various places and feel more ready to get back to work. The hashtag #LiveYoungJanuary is trending well on Twitter as people share past experiences like making a snowman, riding piggyback and playing board games with childhood friends.