Nash Grier, the famous Viner from a couple years ago has recently taken to YouTube to extend his creativity. Formally known for his short Vine videos, Nash has generated quite a tremendous fan base. Utilizing social media, he was able to grow his horizons into other media which helped him gather even more publicity. In this particular hashtag,
#AskNacks
, Nash sits down with a particular band he enjoys to answer questions that fans have for the band. Jack & Jack are what this band has come to be known as simply because the two members are both named Jack. The #AskNacks then forms after combining both "Jacks" and "Nash" together. This trend received an incredible amount of uses in its early life as is tradition with Nash Grier's new video releases.

Courtesy of
Hashtag Analytics
Although #AskNacks reached a pretty early maximum around 9:15 AM Central Standard time, this hashtag remained pretty prominent all of Sunday. It should also be pointed out that although this question was an "Ask" hashtag, it was simply an advertisement for Nash's video. There was no real time asking of questions for the band as is typical with these sorts of Twitter events. Instead the video featured archived questions that had been asked earlier and the humor that is usually found in Nash's sets. Still, because it wasn't a live question event, there were plenty of hashtags that were related to #AskNacks that sprung up.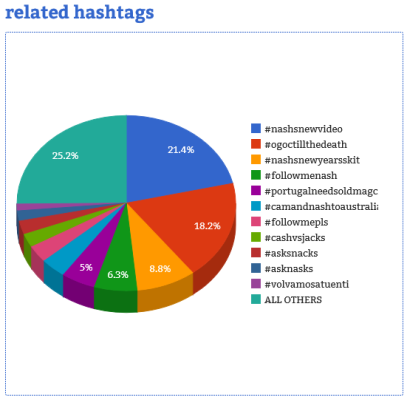 Courtesy of
Hashtag Analytics
Plenty of puns made in the video were found alongside #AskNacks. From beginning to end, the video kept fans entertained with Nash's signature humor. It also kept them Tweeting about their experience so they could share it with their friends and followers.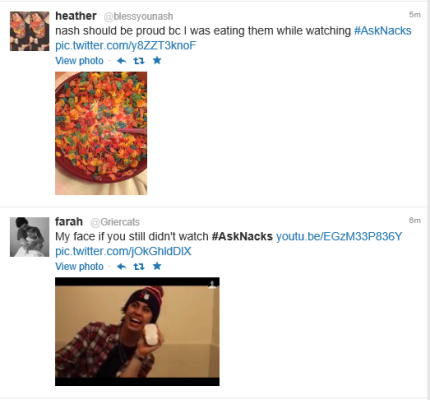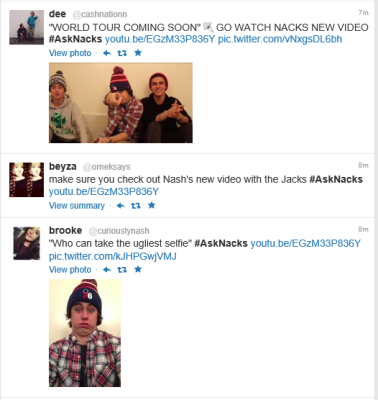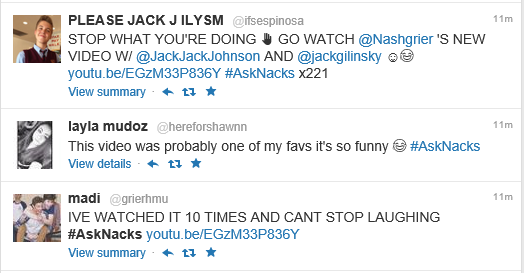 Tweets rolled out all day. Many fans were created as Nash's video introduced himself to Jack & Jack fans and vice versa. As always, expect more out of Nash in the near future to make its way across social media.