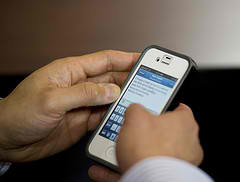 ??by?
?MDGovpics
?
When you want to show your followers a specific tweet you wrote in the past or refer back to it on your website or other online venues, you can share a link to it just like you would any other URL. Every tweet you make has a corresponding URL (or that address you see at the top of your page that starts with http://). This will allow you to directly
link to it
?on your more recent tweets or just about anywhere else that allows linking. What's more nifty is that you can share not just your own tweet, but also other users' tweets, provided they are not
protected
.
How Do I Find The Tweet's URL?
First, locate that specific tweet. When you've found it, click anywhere on the tweet itself and it will expand to a slightly larger size. Notice the 'Details' link that appears on the expanded version and click it. The URL on your browser's address bar (at the top) is now the URL of that specific tweet. The tweet that normally looks like this:

Will look like this when expanded.

This is the tweet's specific URL.

Copy the link as you would any other URL and then and then paste in a message to anyone with who you want to share the tweet. Note: The link to a tweet does not expire, unless the tweet has been deleted. Read more about
URL Shorteners and sharing links
.