The geniuses behind the increasingly popular board game "Schmovies" take to Twitter for their latest promotion. The point of their new game is to mess around with popular movie titles of all sorts of different genres. From Star Wars to Back to the Future, Schmovies aims to mess around with common pop culture knowledge. In their Twitter promotion, the objective is to take the title of a movie a certain style(s) of cheese and mesh them together. Of course, this fits perfect with the especially popular Twitter games seen on Monday nights. Plenty of people added to
#CheeseSchmovies
throughout the evening to contribute to the trend. Of course, the company added a little prize to the best #CheeseSchmovies of the night to spice things up a little.

Courtesy of
Hashtag Analytics
The trend continued for?a short?while as the company actively pointed out some fun facts about the hashtag and left the contest open. Most of the Tweeters seemed to be enjoying reading through the numerous Tweets with #CheeseSchmovies and didn't seem too concerned about whether or not they won. Instead, they kept on contributing to the fun.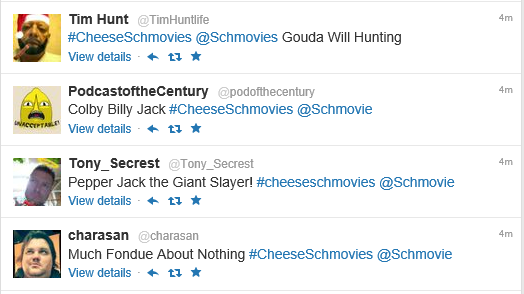 Some Twitter users stuck to the more common styles of cheese and incorporated them either as a rhyming word or something that flowed pretty nicely. Others got a little more complex and pulled out some artisan or less common styles.





From Cheddar and Jack to Ardrahan and Manchego, participants seemed to be having fun mixing their cheese knowledge into movie titles. The creators of the hashtag who are also the creators of the game highlighted that they would be having some more Twitter games just like #CheeseSchmovies. This gives people across social media a chance to see what the game would be like. Of course, this could definitely be another source for trending Twitter games to reappear in the near future, perhaps even as a new tradition. Featured graphic: From Flickr.com Creative Commons Attribution 2.0 Generic.