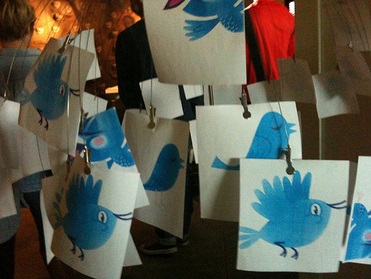 ??by?
?mariahagglof
?
Tyson Foods launched the Twitter party
#TysonGlutenFree
on Twitter at 7:00 pm on March 11, 2014 for social media users to share their gluten-free recipes and ideas. Particularly, mothers and home chefs who like cooking for their children were drawn by the hashtag. About 15% of children are sensitive to gluten and products that contain it like wheat, rye and barley. People with Celiac disease also have to stay off gluten to prevent effects like skin problems, migraines and difficulty breathing. Tyson Foods launched the hashtag to feature its Gluten-Free Chicken Nuggets and Chicken Breast Strips. The company also partnered with online companies like Classy Mommy where they share tasty and easy-to-prepare recipes on #TysonGlutenFree. Social media users, especially moms, started to share their ideas and experiences with their children?s gluten-free diet on the hashtag. #TysonGlutenFree continues to trend well on Twitter as more people provide tips on how to save on groceries by picking the right ingredients, how to look for the best alternative ingredients without compromising taste and how to make delicious gluten-free meals like barbecue chicken, pasta and cake. Others also shared links to the recipes or photos of their original creations.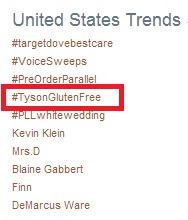 Prizes are also at stake for participants of contests which Tyson Foods regularly hold. People simply need to follow @TysonTweets, the official Twitter account of the company, and retweet their message to get a chance to win free food items. Social media users continue to engage with the hashtag to guide others on how to keep their children safe and healthy with the right food choices.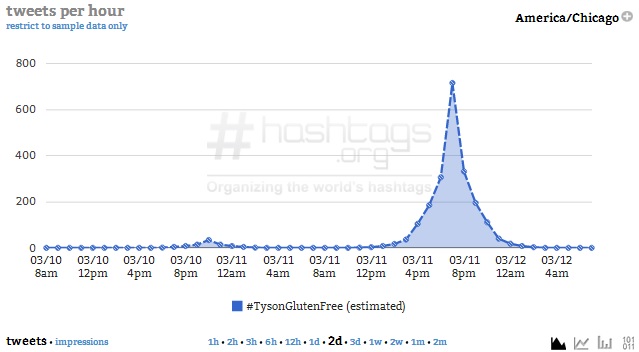 Courtesy
Hashtags.org Analytics