Hashtags
have been present since 2006 and these are here to stay as companies use these in various marketing campaigns. These social media tools are even used on various advertising materials like music albums, t-shirts, posters and actual products to encourage more people into specific conversations. One advantage that these offer is allowing you to promote the brand through several platforms. For companies that haven?t used hashtags yet, here are some reasons to start.
1. The power of hashtags
Companies take away the guesswork and can conveniently gather people with similar interests in a single conversation. Information can be provided and updated to the same people using the same platform. You do not have to worry about random strangers entering the discussion and can find other relevant users who are most likely willing to avail of your products. A
properly made hashtag
can help companies get thousands of new customers in just a few days.
2. Ease of use
Hashtags are very easy to use
. These were initially incorporated on Twitter but many other social media networks followed, allowing marketers to use the same hashtag across multiple platforms. Hashtags should be made using appropriate keywords that others can easily search on the chosen platform. The hashtag can be placed anywhere in the post or tweet. Users who adjust their privacy settings properly will also stay hidden from others who do not belong in their circle.
3. Buzz creation
Hashtags can be
used to start hype and increase interest
in a new or existing company or product. Many times, businesses have used these to introduce an event or new product lines with very good results. You can start Twitter chats, online contests and live coverage using hashtags. People who are interested in the subject only needs to click on the hashtag to check the latest information and conversations. Marketers can continue sharing and managing the conversation before, during and after the event for the best results.
4. Affordable and extra credits
The use of hashtags also proves to be very
affordable especially for small businesses
. While bigger companies can afford promoted accounts. Smaller companies can invest in promoted hashtags which are cheaper and will generate the needed traffic to boost following and sales. Some businesses also reward users with extra credits and prizes when using hashtags. Join social media competitions to win special awards and other bonuses. Let's see the hashtag
#TacoBell
, for instance.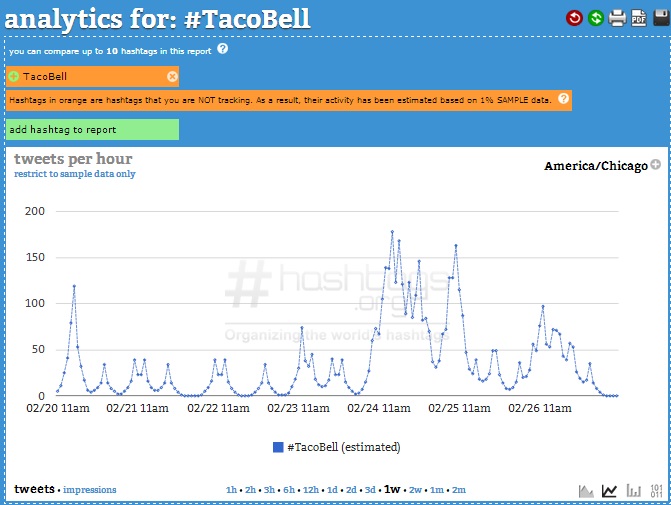 Courtesy of
Hashtags.org Analytics
It's not a small business, but running analytics on this hashtag and finding out how many tweets and impressions it made at a particular time is valuable information you can apply to your business's own special ?hashtag. Analytics allow you to track your hashtag's performance as soon as an hour and as far back as two months. You will also see who your most prolific users are, what other hasthags are being used alongside yours and what people are posting exactly.
5. Localizing
Specific hashtags can also be made
using the same brand but pertaining to specific areas. For example, companies with different offices or events held in different places can launch specific hashtags to address the target audience on a local scale. This way, users can discuss issues and factors relating specifically to their community. Brands stay close to their followers through this approach.
Using hashtags will render several benefits to companies regardless of size
. Small businesses, in particular, will experience get a lot of attention and mileage without having to spend so much on a campaign. Find some of the experts in the business, learn from their experiences and then explore the different uses and functions of your social media account to maximize your exposure.