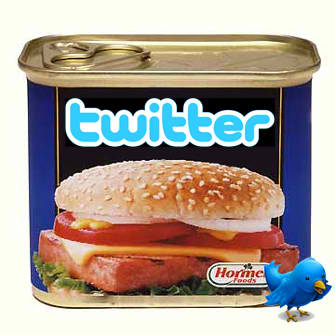 http://thetwitterapps.com
Because
Twitter
is free for all, so does it become a haven for unscrupulous individuals looking for accounts to bother and spam. While the micro-blogging community is generally open and your tweets (if not protected) can be seen by everyone, there are those whose accounts exist solely to propagate spam and prey on weak accounts to spread viruses. At first, suddenly finding your account flooded with the same information from the same user may be amusing or you might just dismiss it as a glitch. Over time, you must realize that spam is not at all a good thing for your computer (so don't click just any link!). Worse, these will worm their way into your personal details and post them for all strangers to see. There goes your privacy and safety.
About Spam
Spam is known as a combination of behaviors and activities that violate polices and rules in various websites, including Twitter. Spammers are individuals who try to attack other accounts and intrude on the privacy of online users through deception. There are different approaches where people?s computers or online accounts may be manipulated as soon as security has been breached. Some of the usual practices involve posting offensive messages to other users on Twitter, posting irrelevant media, flooding trends and posts with unrelated tweets and providing harmful links that could include viruses and malware.
Report the Spam
As soon as you realize that you?re dealing with spam or a spam account, go to the profile or account then click on the person icon. A drop-down menu will appear where you can choose among various Actions. Select ?Report for spam? then tag the username you wish to have Twitter investigate. Users can also be blocked if they tend to attack you or violate the account. Here's an example (Of course, we all know The NY Times is not a spammer.).

Twitter highly recommends that the person reporting is the direct victim or target of the spammer and not a third party. Twitter usually disregards reports coming from unaffected individuals. Once Twitter receives a report, the website will immediately block the user and prevent him from following or responding to posts. The report will not immediately cause the suspension of the individual without prior investigation. There are also filing tips for complaints on Twitter which will guide you on how to report illegal and disturbing posts and content on the website. You may file a support request
HERE
.
Report Posting of Private Information
If you are the victim of private information being shared on Twitter, you can file a report about the incident. It is important, however, that only the person who actually is being attacked will be the one to file the report. A representative can also act on his behalf if authorized. Otherwise, Twitter will not act immediately on the report. The person reporting does not need to have an actual Twitter account. The report will require the confirmation of the complainant that the private information placed on Twitter is his own or possession and that the complainant has not placed the information being reported on any other part of the internet. Twitter will investigate the account and review the tweets. As soon as it is confirmed that private information is being shared publicly without consent of the owner, it can be removed. If the information was posted before anywhere on the web, it does not violate Twitter rules and policies so no action will be made. It?s important for the complainant to prove that the info is strictly private and confidential.