"
Beyonc? - Pavilh?o Atl?ntico
" by
Jos? Goul?o
from Lisbon, Portugal - Beyonc?. Licensed under Creative Commons.
We all know and love Beyonc?. She is literally the queen of music, as she released an album without any marketing recently and the sales were still off the charts. Only someone as big a Beyonc? could pull something like that off. ?She created her own hashtag of #
beygood
, which is where people will do charitable things or something just genuinely good and use the hashtag. She has a family which is considered a powerhouse family, married to Jay Z with a daughter named Blue Ivy. Many people hail her as the queen. Yesterday, September 4th, was our Queen B's birthday. And, just as her album sold without marketing, the hashtag #
HappyBirthdayBeyonce
is trending without her even suggesting it. Just to show how amazing she is and how many people look up to her, one of the most popular tweets for her birthday is a prayer to Beyonc?! Now if that isn't dedication, what is?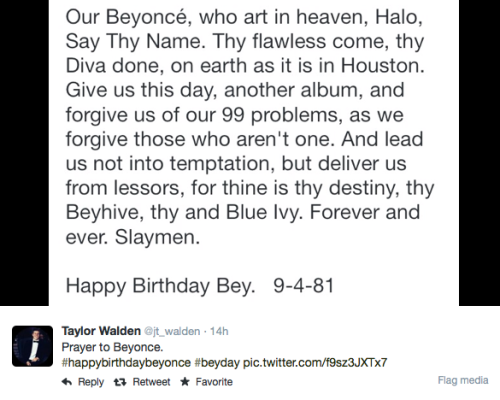 The twitter world is celebrating Queen B's birthday with tweets, photos, and lots of love towards Beyonc?. Just look at this line of tweets, which was screen shot and not edited together.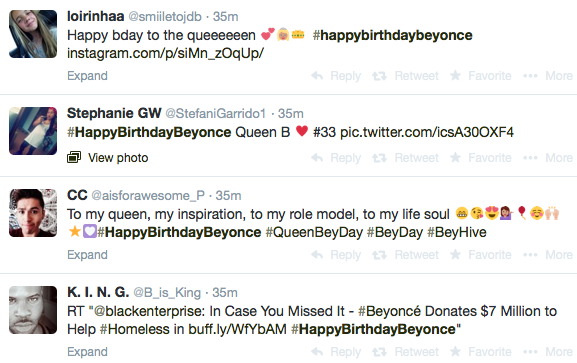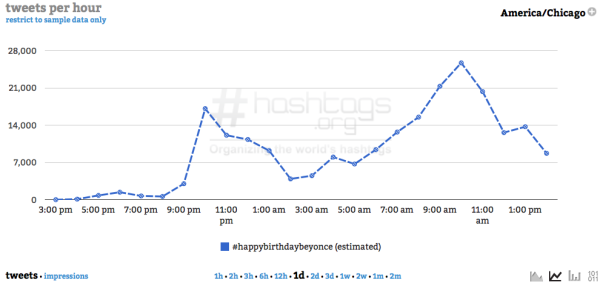 Trending graph thanks to
Hashtags.org Analytics
Every single one of these tweets has nothing but good to say about Beyonc?. It is possible that this is one of the biggest celebrity birthdays on social media yet, trending all day long. Beyonc? is not just big in the music industry, but she does quite a bit with her humanity efforts, always having been a feminist and a general do-good person. To view all she does, she has a page on her website called
#beygood
. It is possible to become a #beygood ambassador and help make the change around the world with Beyonc?. A humanitarian, a mother, a wife, and a famous musical artist, it is no wonder Beyonc?'s birthday is trending on Twitter! Feature image: "
Beyonc? - Pavilh?o Atl?ntico
" by?
Jos? Goul?o
?from Lisbon, Portugal - Beyonc?. Licensed under Creative Commons.