#Music
app was bound to be eliminated from the iTunes App Store, as announced by Twitter in the third week of March 2014. The app will stop functioning on April 18, 2014. Instead of Twitter users reacting on the supposed loss, many asked what the app was about. One of the main reasons that led to the app?s removal was most likely because it was irrelevant on the micro-blogging site and Twitter users were not even aware that they could use it. Music fans log on to Twitter to get news about the latest albums, concerts and releases. They also go to specific hashtags to talk about their favorite bands and songs as well as directly communicate with artists and composers. #Music was supposed to guide music lovers to new music through the tweets of artists and other music fans. Considering that there are so many apps that aim to direct Twitter users to new songs and artists, it was difficult for #Music to stand out. It only ranked 165th among all free music apps in 2013. When you look at analytics on the hashtag, it appears that it has a huge engagement, but it's not really for the reasons Twitter intended. For the past week, for instance, its tweet numbers average by the thousands per day. But few to none use it as guide.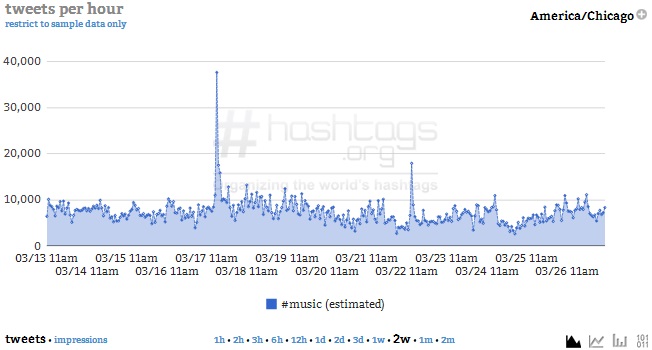 Courtesy of
Hashtags.org Analytics
According to James McQuivey, a Forrester analyist, the app is expected to go down in 2014. There are currently various music choices where people can conveniently listen to music and get new updates on the songs that they particularly like. Some of the popular music apps are Rdio, iTunes and Pandora. There are so many bands and artists who use Twitter to get closer to fans, so music lovers only need to use Twitter itself to discover the music they like, without having to rely on apps. McQuivey added that the removal of #Music may signify that music services may end up as additional features for people when they avail of products. Digital services may no longer be their primary concern.