If you're a music artist, how does your promoter make sure that your market gets all the as-it-happens information the moment it comes out? Take it to social media, of course! On August 18, singing superstar and songwriter extraordinaire Taylor Swift debuted her new single "Shake It Off," much to the glee of her millions of fans who are actually also avid (if not rabid) social media users. The strategy to create the hashtag
#ShakeItOff
is smart, obviously, because practically 100 percent of the 24-year-old country/pop singer's global fanbase are Twitter users and understand what a hashtag can do to catapult something to trending status. While her throngs of supporters alone can successfully make a hashtag trend in the US without really trying, with her new single, there is much to be excited about.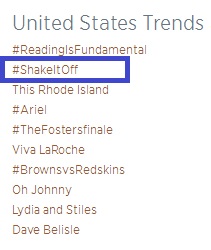 For one, Swift (
@taylorswift13
) has come up with a new song that is no longer about one of her ex-flings. This time, the catchy beats are directed right at her haters and critics. Not only that, we find her actually twerking in this super upbeat music video. Second,
#ShakeItOff
has a very poppy vibe to it, leading many fans and music observers alike to believe that perhaps Swift is finally crossing over from country to pop music. She has done something somewhat like it with "I Knew You Were Trouble," to which the singer received backlash for not staying true to her roots. But Swift is young, and has her entire career ahead of her, so surely she is entitled to jumping between genres, right? And, third, she hasn't released an album since 2012, when "Red" came out; so it's high time.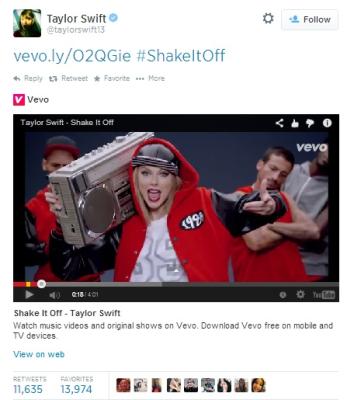 #ShakeItOff, the first single of her new album titled "1989," reached trending status in the US and has, as of this writing, generated 144,000?tweets and made 1.7 million?impressions -- and that's just in the first 12 hours since it's release. This number is expected to go over higher as the rest of the world catches on and also start hashtagging their happiness over this wonderful news online.