Taylor Swift has had a pretty great year. From fantastic awards to a debut of her?full genre makeover,?Taylor Swift has plenty of reason to celebrate the year 2014. Now, on her 25th birthday?one December 13th,?fans all over social media are wishing her
#HappyBirthdayTaylorSwift
. It seems fans will find any reason to set Taylor Swift?up as the most popular hashtag of the day. Of course, birthdays are a big thing, but thanks to her huge fan base on social media, she is the first celebrity in awhile?to have most of social media know that it was her day thanks to popularity of the hashtag.

Courtesy of
Hashtag Analytics
As indicated by the graph above, it would appear that people actually started using the #HappyBirthdayTaylorSwift hashtag the day before her birthday, although it wasn't quite as trending as it was on her actual birthday. This could either be from people across the globe or people were actually excited to celebrate her birthday, which doesn't seem to be too surprising. As one Twitter user put it:

Of course, this is to be expected from Taylor Swift fans everywhere as they are serious about their idol. This is why she has plenty of trending hashtags every month. She tends?to?get so popular on social media with her fan base?because she often?interacts?with them and?gives them something to talk about.

Fans from all across Twitter made sure to wish the pop star a happy birthday. For them,?the day?just gave them another excuse to listen to her new album over and over again to celebrate.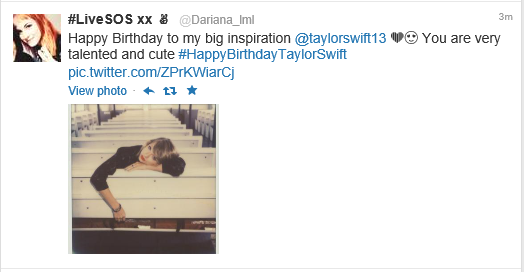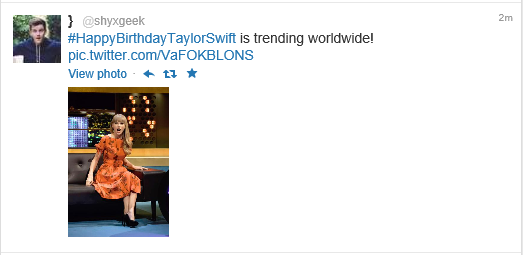 People shared their favorite photos, songs, and moments from their idol's past. Many noticed just how big the trend had become over?the first few hours of her day. As mentioned last time Taylor Swift had become a popular trend, don't expect her to disappear for the rest of the year. With appearances at popular award shows and other big televised events, #HappyBirthdayTaylorSwift will probably only be the first of the last big hashtags about her this year. Featured graphic: From
ourbeautymark.blogspot.com
Creative Commons Attribution-NoDerivs 3.0 Unported