The new age of Taylor Swift is here and for some fans, they could not be more excited. Her new album
1989,
disguised under the hashtag #TS1989 (because numbers cannot start a hashtag) released yesterday to store shelves everywhere. The trend stayed steady all day with a huge spike around the time the album released digitally in the morning. Fans were obviously obsessed immediately upon hearing some of the singles released earlier this year which also made their way to the top of the most trending hashtags. But today is the day where these fans' wishes have been fulfilled as they were introduced to a brand new style of Taylor Swift tailored just for them.

There were actually multiple hashtags that followed #TS1989 that, if combined, would've made this single hashtag break Tweet rates of almost 50,000 an hour. These were all related to the album, mostly favorite songs fans really liked or hashtags related to or started by Taylor Swift herself which included #Taylurking where Swift would respond or comment on fans' Tweets that included the same hashtag.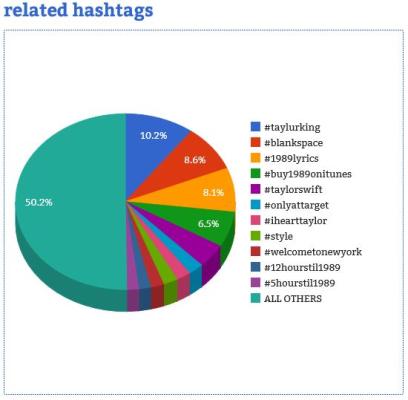 Taylor Swift received quite positive feedback from celebrities around social media. With a diverse choice of favorite songs, it is no surprise why #TS1989 has become a huge trend on social media.




Celebrities weren't the only ones raving about the release of #TS1989. Fans had only compliments to send to Swift as they shared their favorite song, lyrics, or moments throughout the album that stood out the most to them.




Don't expect this trend to slow down anytime soon. Seeing Swift take a complete turn away from country music in #TS1989, she has become an entirely new type of artist. Fans that have been with her since the beginning appear to keep their loyalty with her despite her change in tone while this new genre has also attracted a new crowd. Featured graphic: flickr.com Creative Commons 2.0. Definition: /definition/ts1989/