Country music fans everywhere are probably exhausted from a thrilling night. With a bunch of their favorite artists performing at the #CMAawards2014, fans seemed to enjoy every single broadcasted moment last night. This, in turn, brought #CMAawards2014 up as a popular trending hashtag. Tweet rates sprang up into the thousands per half-hour immediately upon airing of the show. The trend lasted all throughout the show displaying a decent decline during commercial times and lasted steadily until the end.

The #CMAawards2014 trend didn't last too long into the night however. It seemed people went off on tangents to discuss their favorite moments or favorite artists that either won or lost an award. This of course brought out many related hashtags as included in the graphic below. There were also quite a few popular phrases that didn't appear under hashtags. These included song lyrics, funny or memorable quotes from some of the celebrities, or popular songs that were recently released on a hit album.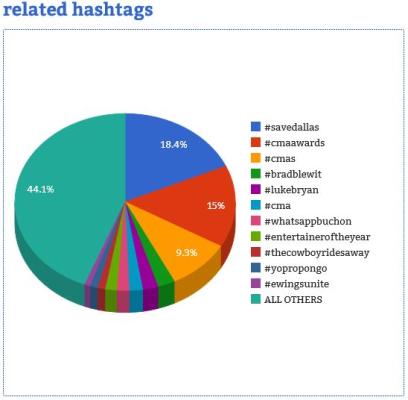 This chart demonstrates the variety of hashtags related to #CMAawards2014. These are?mostly about artists, awards, or other things related to country music. People expressed their feelings about a certain artist getting an award or a highlight during the show.





As seen in these Tweets, people were more than excited to finally see all of their favorite Country stars come together all at once. Some enjoyed it so much that they wished for more common public Country music events. Others just discussed how much they enjoyed the show with their friends and family. Still, others had some criticism for the way the show was run. There were every a few popular Tweets from some of the artists and celebrities who performed. Overall the #CMAawards2014 were definitely?successful. They got people talking all across social media about the different aspects involved in Country music. Definition:
/definition/cmaawards2014
Featured graphic: Flickr.com Creative Commons 2.0.