??by?
?jrandallc
?
How do you liven up a crowd? Go to Twitter and use
#GETLOUDDKR
. Kenny Vaccaro (
@KennyVacarro4
), defensive back for the Texas Longhorns, commented that he liked playing away games as the crowd in his hometown was just not stimulating enough when it comes to cheering. In an interview with The Daily Texan on September 10, he said: ?I like without a doubt playing on the road better than playing at home. It?s way louder and gets me. No offense to our fans, but they're not loud.? Vaccaro?s comment spurred Cole Kirby (
@Cole_J_Kirby
), a student, and his friend Ryan Hernandez (
@RyanHdz
) to start a social network event to improve the cheers and loudness of the crowd when it comes to home games. He said: ?We decided that if we used social media, maybe people would get excited about it.? He added, ?We thought it would just be kind of a fun inside joke.? The two friends started with about 150 individuals and used the hashtag #GetLoudDKR. The Darrel K Royal fans immediately responded within minutes. After one hour, the post became viral and garnered about 5,000 invites and over 2,000 attendees. Here's the activity on the hashtag.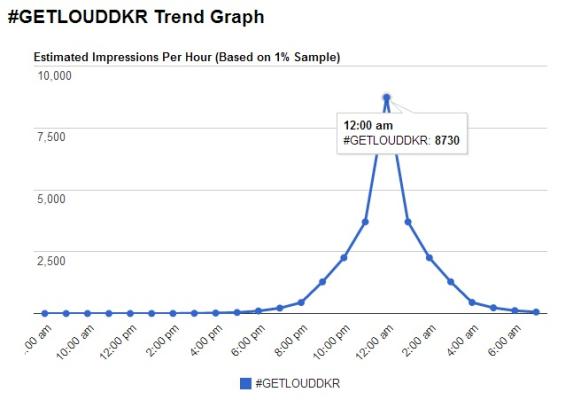 Courtesy of
Hashtags.org Analytics
Kirby emphasized how the approach differed from traditional approaches. This time, there was no merchandise, flyers or posters used. There wasn?t even any planning done and the method solely relied on social media. Several football players of UT, the Longhorn Network and other personal accounts helped circulate the hashtag. Kirby said, ?We?ve got a lot of people in the stadium. I?ve always thought that all of those boot heels and aluminum seats could combine to make a lot of noise.? Some of the posts on #GetLoudDKR include Kenny Dwayne Vacarro himself.

@GetLoudDKR
posted, ?there is one simple thing for Texas fans to remember for this weekend. #GETLOUDDKR?. Here are the other tweets.