After plenty of years of fame, celebrity Justin Bieber is making his next step in his career. After recent exposure to the modelling world, Bieber fans were more than excited to hear his next plans. At heart, they want him to get back to his music but when
#BieberRoast
popped up, that seemed farther away than desired. Still, fans (and enemies) were excited over this announcement that he had willingly enlisted himself onto this special show run by Comedy Central. During these "roasts", the purpose is to pick apart details of the person's life for the entertainment of the audience. With that in mind, #BieberRoast actually appeared to be a good idea according to fans. In their eyes, they saw the notion as him acting as a grown up adult. With all these opinions and feelings about the announcement, the hashtag ran pretty strong.

Courtesy of
Hashtag Analytics
With nearly 60,000 Tweets within the first hour using #BieberRoast, the news was sure to reach everyone who had checked in to social media during the day. The trend retained its strength for quite some time after the announcement as folks discussed predictions. Some fans wanted to point out that Bieber has surely stepped up his maturity level and grown into an adult. Others see this as a chance to finally see Bieber get mocked on television.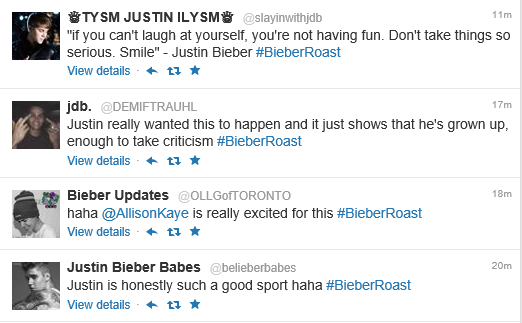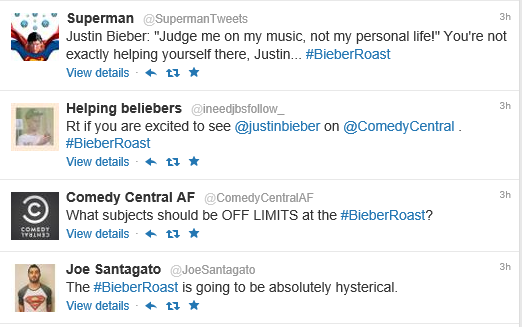 The Tweets flooded in as Bieber himself?confirmed the situation alongside Comedy Central's confirmation. Fans and foes of Bieber expressed their excitement for their own reasons. Perhaps this will be inspiration for Bieber to act as his fans want and stick to more mature decisions. On the other hand, those who oppose Bieber may get more of a kick out of his decisions than Bieber may want. Regardless of opinions though, it seems that Justin Bieber is back and is completely different than he was before.