For those who are natural born cookers, or for those who wish they were, or to those who are just interested in cooking and drama, #masterchef has been a show that many people are very devoted to watching. It starts out the season with a group of home cooks who have a little something special and extra in comparison to other home cooks. These cooks then compete with each other on to who becomes the "Master Chef" of the season. This is the fifth season of the show, and there are many loyal viewers all around the world, as there is a hashtag of #masterchef that also adds on a location, such as UK or Argentina.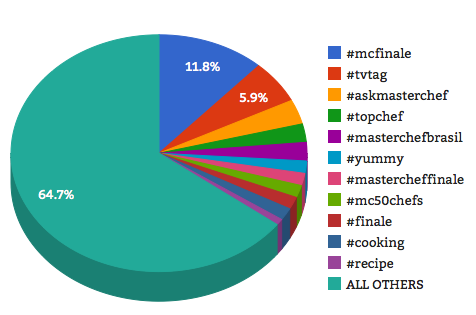 Graphic thanks to
Hashtags.org Analytics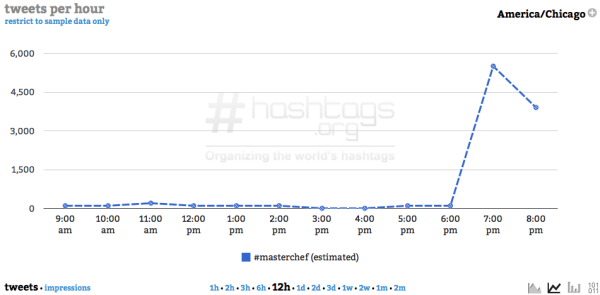 Analysis Courtesy of
Hashtags.org Analytics
As this is the finale episode, many people have formed decisions on the show and who should be the winner. It is down between two candidates: Elizabeth, who works in advertising, and Courtney, who is currently an aerial dancer at a night, well, gentleman's?club. Both of them want this for different reasons, and the viewers have watched from the very beginning as these cooks have progressed. Courtney says she struggles to even pay her rent, and Elizabeth is working towards this for person recognition and to show that she is a chef to be reckoned with.



Many people are very heated when it comes to the master chef finale. People have their favorites and aren't afraid to say it. Twitter is going crazy with stress over this finale, which was the two final chef's cooking a complete three course meal for the judges, and it was filled with intensity and back-talking. In the end, the winner was **spoiler alert**

Courtney! Congratulations to the newest Master Chef.